So just how do you get to charming? You've been in the conversation. Someone uses the word CHARMING to describe a house. Homes fit in the charming category for so many reasons, especially here in Asheville, NC where they nestle down into the mountains. One feature that can put a home into the charming category is decorative molding on accent walls. Here is some information on decorative molding and ways to add it to your home.
Decorative accent moldings come in a wide variety of styles. Interior designers use these to add visual interest to rooms and spaces while highlighting desirable features and distracting from less attractive elements. Understanding the options and purposes of decorative molding allows use of a design tool that is relatively inexpensive and simple but will elevate any home style.  Let an Asheville Realty Group agent know today if this is a design feature you love!
3 Types of Decorative Molding for Accent Walls
• Baseboards and Crown Molding – The most common of moldings include baseboards and crown molding. These essentially frame a wall and typically are painted bright white or soft cream to highlight the wall color.
• Chair Rails and Picture Rails – Chair rails are designed to serve a functional purpose: to protect the wall from damage caused by chairs, usually in a dining area. They also add a decorative element by delineating between two paint colors, or perhaps wallpaper and paint. A picture rail is comprised of the same kind of thin wood strip as used in a chair rail, but typically placed a few feet below the ceiling. A picture rail allows the  homeowner to hang decor without damaging the wall. When coupled with crown molding, a picture rail can create the impression of a higher ceiling, adding a sense of luxury.
• Wainscoting – Common in traditional homes, wainscoting is paneling placed against a wall, originally used to camouflage wall damage near the floor of older homes with water seepage. Modern homes have a multitude of choices from which to choose. These decorative treatments are often used to make a room look larger or cozier, depending on the height of the paneling.
Moldings come in a variety of styles and sizes, and each can be used for a different purpose. Relatively simple to install, decorative molding can change the feel of any space.  We invite you to find a charming home today!  Here's a sneak peek inside homes listed in the Asheville market to find one with decorative molding.  Our agents are just a call away!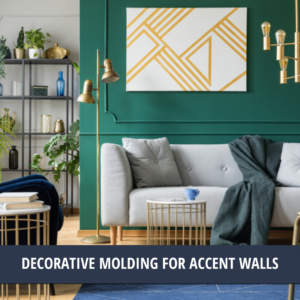 About Asheville Realty Group
Asheville Realty Group is a boutique brokerage firm offering full-service real estate services. We have locally experienced agents who specialize in residential homes, luxury homes, country-side acreage and everything in between. We love Asheville and the surrounding mountain communities that we call home!
Get in touch with us today by filling out the form below or give us a call at 828-252-1910
Contact Form
We would love to hear from you! Please fill out this form and we will get in touch with you shortly.