Come enjoy Asheville in the Fall!
The Asheville fall leaf color show in the North Carolina mountains attracts visitors from around the world. With the 5,000-foot elevation change within 50 miles of Asheville, our lush Blue Ridge Mountain range puts on one of the longest-running autumn leaf color displays in the country. After enjoying nature's grand show, head to downtown Asheville to enjoy the many local restaurants and shops. For many recent photos, see our 2015 Fall Photo Reports and travelogue.
Blue Ridge Parkway & Mountains Fall Leaf Color Forecast 2015
The number one question is: "When is the peak color?" No matter when you plan an autumn visit in October or early November, you can take a short drive on the Blue Ridge Parkway or other mountain roads to find the best color of fall leaves. Elevation and weather are the biggest factors in the color show. Leaves begin their color change on the highest peaks and gradually work down to the lowest elevations. An early frost speeds up the show and warm weather prolongs it.
Click here for more
Fall Events, Asheville & NC Mountains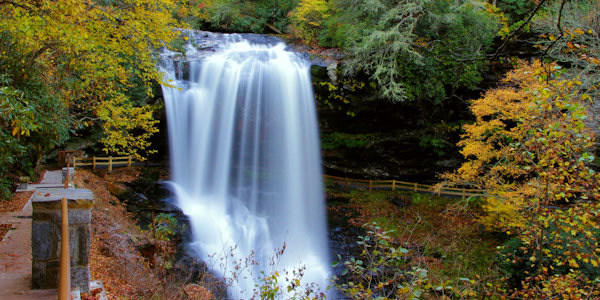 Fall is a very busy time for a variety of festivals, events, art tours and more. The autumn foliage color show adds to the excitement. We kick off fall with many Labor Day Weekend festivals. Click here for: Upcoming Fall Events & Festivals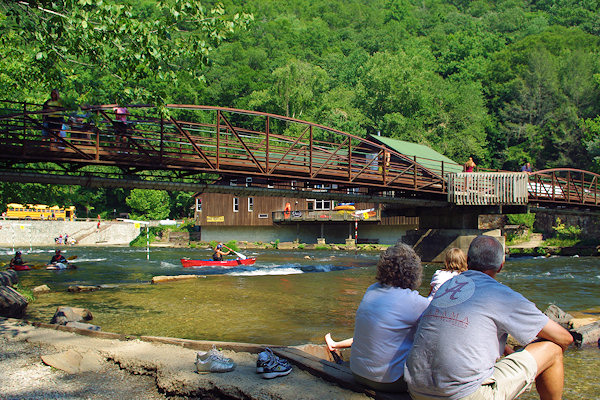 NOC: Nantahala Outdoor Center
The NOC (Nantahala Outdoor Center) Adventure Resort in the Nantahala Gorge is paradise for outdoor lovers. In addition to rafting and kayaking on the Nantahala River, you can bike, shop, eat and hang out on the beach! Try stand-up paddle-boarding on Lake Fontana, fly on the zip lines, bike and shop at NOC's Outfitter's Store. Located about 75 miles from Asheville (easy trip mostly on a four lane highway), it is tucked along the Appalachian