If you love your Asheville, North Carolina neighborhood but need more space, you might consider an addition to your home. If expanding on the first floor is not an option, then adding a second floor might be an option. Unlike ground-level expansions, adding a second floor is more complicated—before you embark on this kind of project, there are some elements you should consider first.
• Cost – You already know that adding square footage will not be cheap, but adding a second story comes with additional costs. You will need to consult a structural engineer and plans should be drawn up by an architect. You'll also need to add at least one staircase. You might need to relocate HVAC, ducting, and any other items housed in the current attic space.
• Construction – Living on premises through this kind of addition is different from adding space on the first floor. Utilities will need to be turned off and the roof removed. You will need to provide protection for any household items and most likely move out during the process.
• Space Restrictions – The amount of space you can add to a second story is limited by structural concerns. This means that depending on current construction, you might be limited in the amount of space you can add. Make sure the new space will be worth the cost and hassle for your needs.
• Moving Instead – While you might want to stay in your current location, moving might be a better option. It could be worth investigating other options before starting this kind of major construction project.
Adding a second story is not as easy as it sounds. If you love your neighborhood, street, school…it might be worth the cost and effort. Before starting, make sure you understand everything involved, so you can make the best decision for you and your family.
For more information on this, contact us at Asheville Realty Group today!
Blog compiled by Erin Secretarski, a licensed real estate agent and Director of Getting Stuff Done at Asheville Realty Group.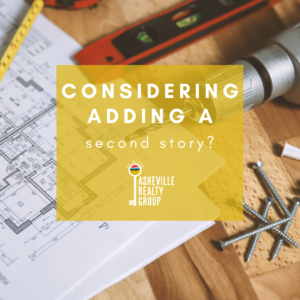 About Asheville Realty Group
Asheville Realty Group is a boutique brokerage firm offering full-service real estate services. We have locally experienced agents who specialize in residential homes, luxury homes, country-side acreage and everything in between. We love Asheville and the surrounding mountain communities that we call home!
Get in touch with us today by filling out the form below or give us a call at 828-252-1910
Contact Form
We would love to hear from you! Please fill out this form and we will get in touch with you shortly.