5 TIPS TO CREATE A HOME BAR
Now that is seems we are on the downhill slope of the pandemic effect, we're certainly all looking forward to gathering with friends again.  The local watering hole has always been a great place to meet friends, watch sports, and unwind after work. 2020 gave us a different perspective on that, for sure! Many homeowners have used this time at home to work on home improvement projects. Why not consider adding or improving a home bar to the list? Making simple changes can have a large impact.
Moody Paint – Carve out an unused nook and paint it a dark, festive, or sultry color. Think of the old speakeasy with dark wood and soft lighting or a tropical paradise.
Sophisticated Seating – If your space allows, create a lounge-style atmosphere with bar stools or a bistro set. A black or wood finish will emphasize the feel of a bar.
Stock Up – The key to a great bar is having the right tools and ingredients. Retailers offer a variety of styles for such items as shakers, muddlers, corkscrews, among others. Don't forget the alcohol and mixers.
Open Up – Open glass shelving will showcase your style. Save money by displaying the liquor bottles themselves instead of decanters.
Make It Mobile – If you don't have extra space for your bar, there are a multitude of bar carts to not only suit your style but allow you to go where the party is.
If you've exhausted your weekend honey-do list, consider spending a little time to create a home bar. With a little thought and attention, you can entertain in style, even if it's over Zoom!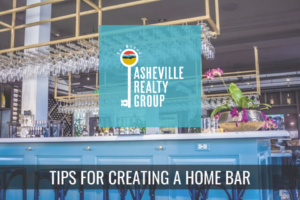 About Asheville Realty Group
Asheville Realty Group is a boutique brokerage firm offering full-service real estate services. We have locally experienced agents who specialize in residential homes, luxury homes, country-side acreage and everything in between. We love Asheville and the surrounding mountain communities that we call home!
Get in touch with us today by filling out the form below or give us a call at 828-252-1910
Contact Form
We would love to hear from you! Please fill out this form and we will get in touch with you shortly.