AVOID THESE COMMON FSBO MISTAKES WHEN SELLING YOUR HOME ONLINE
It's a seller's market, right? Things are moving fast in Asheville, and it may seem like a perfect time to try the DIY approach to selling your home. For Sale By Owner tips may help you decide.
In the current real estate market some homeowners feel inclined to forgo the real estate agent, and try to tackle the complexities of selling their home as a FSBO (For Sale by Owner). FSBO sellers can utilize many of the same national real estate websites used to showcase property online. Most home buyers start their house search online, so the online listing must showcase the home to generate offers. To sell quickly, one must avoid the common mistakes home sellers make online.
Cell Phone Photos – Invest in professional photography. Pictures are the first thing buyers notice and poor-quality shots will prevent the buyer from noticing the home, or even setting up a showing. A professional photographer knows the angles, lighting and exposure, and how to capture the pros and skip the cons. You should be able to find a quality real estate photographer in the Asheville area starting at around $250 – give or take.
Responding Slowly – When a potential buyer reaches out, they expect a prompt response. Catching buyers quickly is the best way to move the buying process into the next stage of setting an appointment. Real estate professionals are accustomed to returning calls on the spot, and use that first contact to get a feel for the seriousness and time frame of the potential buyer. You will want to use this opportunity to get to know the person to whom you will be opening up your doors.
Not Paying for Exposure – Regardless of the platform, there is an option to boost the listing to get featured exposure. The fee is a small price to pay to ensure more potential buyers see the home first when they search for properties. Do your research and learn the how to get the best return on your investment with target audiences and post scheduling.
Poor Grammar and Misspellings – Always double-check to be sure that listing information is accurate, clearly explained, and written with proper grammar and spelling. Avoid miscommunications with buyers by using the proper terminology in your descriptions. If you have not uploaded your disclosures and supporting documentation, be prepared to provide to potential buyers either in person or via email.
Listing on Only One Platform – More exposure only means more views. Consider all the major real estate platforms and use them all.
Selling a home without a real estate agent involves more effort by the homeowner. The homeowner needs to be at every showing, and figure out how to write the contract.  For security, he or she will want to tactfully elicit information about the potential buyer before showing the home. If an offer is submitted, the homeowner will need to evaluate all the terms and negotiate from an objective position, leaving emotion at the door.
It certainly is not for everyone. If you are a FSBO seller and ready to let an experienced WNC real estate agent take over, CONTACT US today!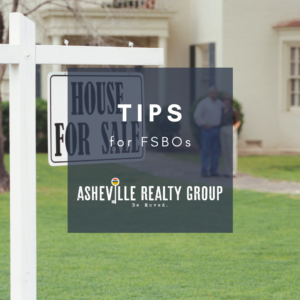 About Asheville Realty Group
Asheville Realty Group is a boutique brokerage firm offering full-service real estate services. We have locally experienced agents who specialize in residential homes, luxury homes, country-side acreage and everything in between. We love Asheville and the surrounding mountain communities that we call home!
Get in touch with us today by filling out the form below or give us a call at 828-252-1910
Contact Form
We would love to hear from you! Please fill out this form and we will get in touch with you shortly.