There has been a great deal of excitement in the design field concerning the Mid-Century Modern style.  Here in Asheville, NC we are no different.  This '50s and '60s home décor trend is evidenced in every furniture store as more brands are incorporating the vintage look with modern lines. Yet what differentiates a Mid-Century Modern style from one that is merely Contemporary?
Both styles tend toward the minimalist look, but Mid-Century often features more color. Colorful carpets, walls, and furnishings—as well as vibrant wall trims and wallpaper—are all signs of a Mid-Century room while Contemporary styles lean toward neutral tone-on-tone elements with limited design extras, such as pillows or rugs.
Another common design element is the clean lines of cabinets and furnishings. Sharp corners and minimal finishings link the two styles together. Mid-Century Modern, however, often includes natural elements such as wood; furniture often
includes graceful curves. Contemporary pieces are often colder by comparison and emphasize a sleek design that can fade into the overall look of the space; no single element commands attention.
Finally, the flow of Mid-Century Modern homes differs from that of a Contemporary home. The trend toward open floorplans and great rooms is a new concept and Mid-Century homes include multiple spaces for specific purposes. For instance, it's common to find an eat-in kitchen walled off from the living spaces, perhaps with a pass-through window or wet-bar area for serving.
Mid-Century Modern design introduces some beautiful options for homes. With thoughtful design concepts, it's possible to introduce some of these elements to any home. Merging eras and styles is one way to create a unique home environment that is both functional and beautiful.
Any questions, contact us today!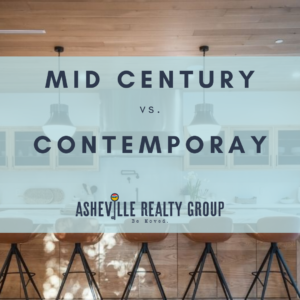 About Asheville Realty Group
Asheville Realty Group is a boutique brokerage firm offering full-service real estate services. We have locally experienced agents who specialize in residential homes, luxury homes, country-side acreage and everything in between. We love Asheville and the surrounding mountain communities that we call home!
Get in touch with us today by filling out the form below or give us a call at 828-252-1910
Contact Form
We would love to hear from you! Please fill out this form and we will get in touch with you shortly.