Over the past few years, smart technology has really blossomed into a huge market. With more-and-more devices offering connectivity and lower prices, almost all households have some kind of smart device in their home. While some smart devices are simply "nice to have," many can actually increase the value of your Asheville home; if you are considering a move in the future, learning which smart upgrades will increase your home's value is important.
Best Smart Home Upgrades that Increase the Value of your Home
Smart Thermostats – Energy-saving smart thermostats can sense when the home is occupied and vacant to control the temperature while saving energy costs. These thermostats optimized the use of heating and cooling, making them a great energy-efficient option. Check out the Nest and EcoBee brands.
Smart Smoke Detectors and Security Systems – Life-saving smart security can alert you and the authorities automatically if there is a problem in the home. Homebuyers tend to be willing to spend more on a home if it's equipped with smart security and other automated features.
Smart Door Locks – Either as part of the security system or stand-alone, smart door locks allow you to control access to your home. Using Wi-Fi to unlock doors remotely and program unique codes for family, guests, housekeepers etc., you will always know by whom and when your home is accessed. You can also incorporate a smart garage door opener, allowing you to monitor and share access to your garage from your smartphone.
Smart Moisture Sensor – Mold can be a big problem in the humid Asheville NC summers. Smart moisture sensors detect water leaks, humidity and temperature changes to protect your home from moisture damage.
These are just a few of the great smart home products available to make your Asheville home more attractive to potential buyers. Most starting under $250, these smart choices will not only protect your home but add value when listing your Asheville home for sale. Get in touch with our team of Asheville real estate agents today!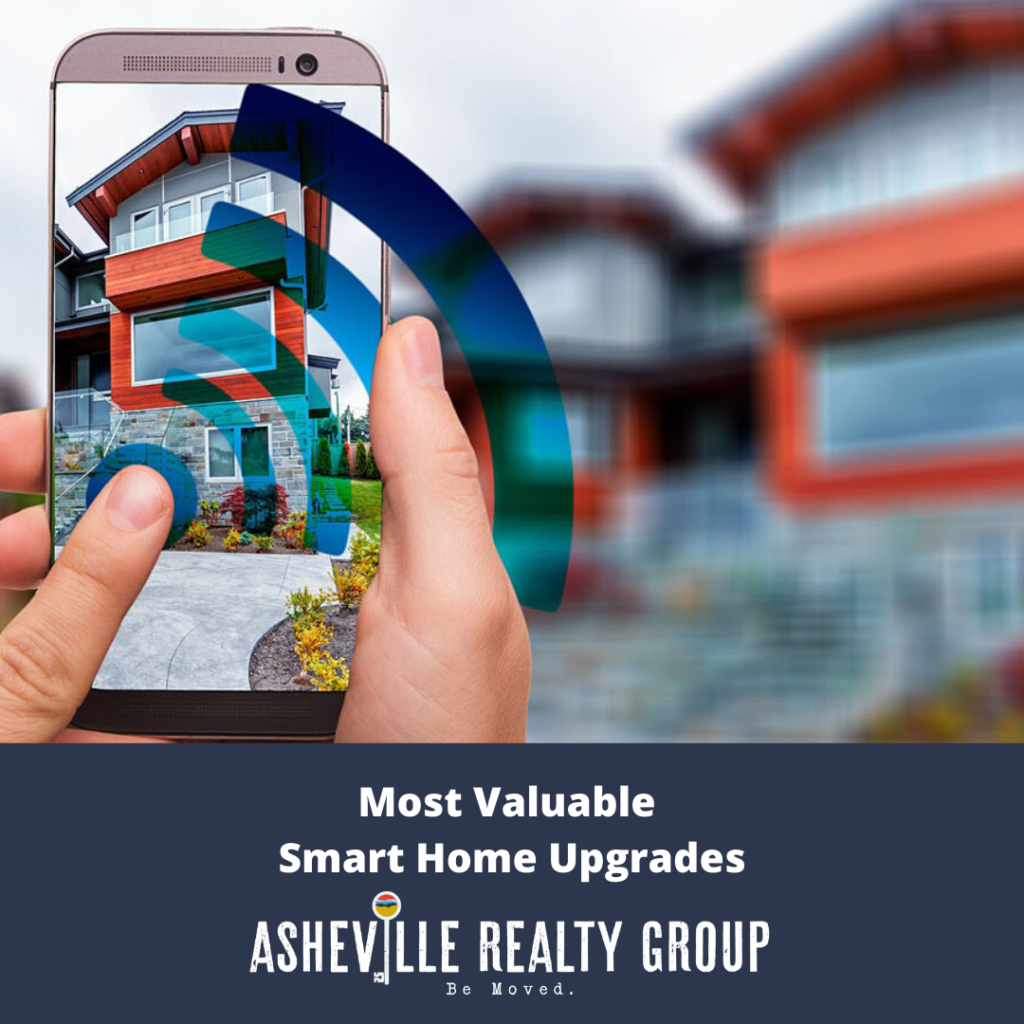 About Asheville Realty Group
Asheville Realty Group is a boutique brokerage firm offering full-service real estate services. We have locally experienced agents who specialize in residential homes, luxury homes, country-side acreage and everything in between. We love Asheville and the surrounding mountain communities that we call home!
Get in touch with us today by filling out the form below or give us a call at 828-252-1910
Contact Form
We would love to hear from you! Please fill out this form and we will get in touch with you shortly.