If you are selling your Asheville home, you've probably considered whether you should hold an open house. However, given today's current standard of physical distancing, you may be thinking twice about inviting others into your home.  The benefits of an open house have been debated at Asheville Realty Group and within the real estate community for years, and many believe that the only benefit is a marketing opportunity for the agent—rarely producing a buyer. You might feel hesitant about the actual benefits of this as well. Let's face it, packing up the family for a chunk of time can be inconvenient, but a virtual open house can be a great tool if you are serious about selling your home quickly, for the best terms and price.  Plus, often a 2-3 hour traditional open house can be reduced to 30-45 minutes in a virtual setting creating time efficiencies for everyone!
The main advantage of an open house, traditional or virtual, is to control the showing. While some buyers take time out of the week to see homes, weekends are still the most popular time to see listings. One could also argue that because an online open house reduces time spent…host two!  One on Sunday from 2:00-2:30 and then a follow up with a lunch n learn tour on a Tuesday at noon.  During a virtual open house, buyers and their agents will see your home at its very best, staged to perfection. Your agent will walk through the home (masked and gloved) with a smart device taking the viewers on a tour, pointing out special features of the home.  More importantly, your agent will be available to discuss the features and benefits of your home, live, with these potential buyers.  This includes looking behind a door or inside a cabinet, areas that may not be visible through the listing photos or video.
A virtual open house will attract potential buyers that have not engaged an agent yet. These buyers might not approach an agent until they find the right home; preferring to look by themselves without feeling pressured by an agent. With today's social media reach, finding these buyers is even more possible.
Virtual open houses are one of the easiest ways to get local buyers into your home. Today's challenges are forcing us to get creative.  Some of this creativity will last past our days of quarantine.  Virtual open houses may be here to stay!  Most importantly, you will get buyers through your home who might never see it otherwise, increasing the chances of receiving quality offers.  Feel free to call one of our agents here at Asheville Realty Group to inquire about listing your home wide variety of digital marketing opportunities…including a virtual open house!
Blog compiled by Erin Secretarski, an agent at Asheville Realty Group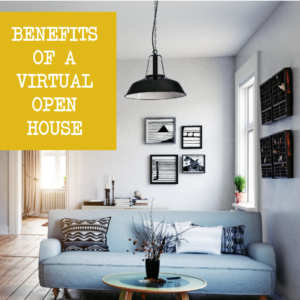 About Asheville Realty Group
Asheville Realty Group is a boutique brokerage firm offering full-service real estate services. We have locally experienced agents who specialize in residential homes, luxury homes, country-side acreage and everything in between. We love Asheville and the surrounding mountain communities that we call home!
Get in touch with us today by filling out the form below or give us a call at 828-252-1910
Contact Form
We would love to hear from you! Please fill out this form and we will get in touch with you shortly.