Sometimes a home falls out of contract. Most buyers assume that it is related to a bad home inspection, but there are many reasons for a home to come back on the market that are unrelated to the condition of the home. During the contingency period, most buyers can cancel for almost any reason – or even no reason.
Of course, the listing agent and seller are motivated to get the home back under contract as quickly as possible and may offer the previous buyer's home
inspection report to the new buyer. Some may even ask that the new buyer remove their right to a home inspection, based on the one they offer. If you have been offered the previous buyer's inspection report, you're probably wondering if you should accept it and remove that contingency.
In a fast-moving Asheville, NC seller's market, it might be tempting, but before you accept the report, there are a few considerations:
Before accepting the inspection, do your research. Who did the inspection? Is it a reputable, licensed home inspector? Check public review sites for comments and customer satisfaction. Check their license with the issuing board and see if they have had any violations or suspensions.
Once you verify the company, give them a call. Make sure they have performed a comprehensive inspection. Many companies offer both a comprehensive and a simpler, cheaper, visual inspection.
Finally, read the report carefully. If there are issues discovered, ask for clarification and consider paying for the inspector to meet you at the home to discuss the report in person with you.
Accepting the home inspection might seem like a good idea – both to make your offer more appealing to the seller and to save a few dollars – but before you remove the home inspection contingency, do your homework. Make sure you understand the real condition of the property before you buy it.
For more information on this, contact us at Asheville Realty Group today!
Blog compiled by Erin Secretarski, a licensed real estate agent and Director of Getting Stuff Done at Asheville Realty Group.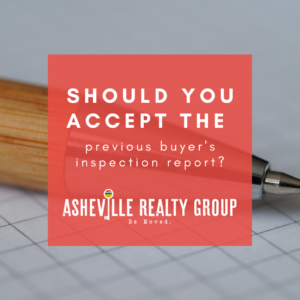 About Asheville Realty Group
Asheville Realty Group is a boutique brokerage firm offering full-service real estate services. We have locally experienced agents who specialize in residential homes, luxury homes, country-side acreage and everything in between. We love Asheville and the surrounding mountain communities that we call home!
Get in touch with us today by filling out the form below or give us a call at 828-252-1910
Contact Form
We would love to hear from you! Please fill out this form and we will get in touch with you shortly.