Working from home? Find out what home buyers in the Asheville area are looking for now.
With major employers now stating that their employees will be working from home for the foreseeable future, many homebuyers have adjusted their list of desirables in their next home. Some not only need to plan for a home office space, but also need to accommodate the homeschooling or distance learning needs of their children as well.
This is impacting the way homes are marketed and the type of features that have become important to buyers at all price points. Of course, homebuyers with larger budgets have the luxury of seeking homes with extra bedrooms or offices and dens already included. But many buyers are not as fortunate and need to find the needed space in more creative ways.
The easiest way to add working space is within the bedrooms. This offers the ability to close a door for privacy. Larger bedrooms (both in master and secondary bedrooms) have been a top priority for homebuyers. Another important feature is an open floorplan which features a Great Room design. For generations, kids have done their homework at the kitchen table, and a spacious kitchen/family room combo makes it easier for home learning without becoming cluttered. Another option for homebuyers is a separate formal dining room which could be converted to a workspace.
With all the changes in working and learning environments for both adults and kids, the home is even more important than ever. As needs change, Asheville, North Carolina homebuyers seek different features from their new dwellings.
For more information on this, contact us at Asheville Realty Group today!
Blog compiled by Erin Secretarski, a licensed real estate agent and Director of Getting Stuff Done at Asheville Realty Group.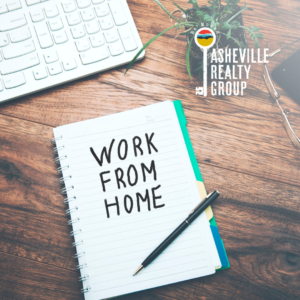 About Asheville Realty Group
Asheville Realty Group is a boutique brokerage firm offering full-service real estate services. We have locally experienced agents who specialize in residential homes, luxury homes, country-side acreage and everything in between. We love Asheville and the surrounding mountain communities that we call home!
Get in touch with us today by filling out the form below or give us a call at 828-252-1910
Contact Form
We would love to hear from you! Please fill out this form and we will get in touch with you shortly.