WE HONOR AND REMEMBER TODAY.
Our military veterans give so much for our country. Asheville and the mountains of WNC are a popular and desirable retirement destination for military families. To make it easier for these special families to qualify for and purchase a home, Veteran Affairs has a unique loan offer reserved only for retired and active military. The special benefits, which are not available to the general public, are as follows:
No Down Payment –While zero down loans effectively disappeared in the real estate bubble of the last decade, VA loans allow those who serve in our military to buy a house without the stress of trying to save the down payment.
Easier to Qualify –Most loans require a credit score of 650 or higher. Qualifying for a VA loan only requires a FICO score of 620.
No PMI – PMI (private mortgage insurance) is required for any VA loan. This amounts to substantial savings each month!
Limits on Fees – VA borrowers are protected by strict limits to fees and closing costs. Lenders financing a VA loan cannot charge more than 1% for loan costs whereas typical financing can run as high as 2.4–3%.
Appraisal Assistance – At times home buyers run into problems when the appraisal does not come back high enough to purchase the home at the agreed-upon price. When this happens, the VA can help by diligently reviewing the report and comparable properties and then asking the lender to adjust the appraisal if it determines that the value is not accurate.
Military families have sacrificed much for their country. For many, the VA loan might be the only way for them to buy a home of their own. Our agents at Asheville Realty Group are experienced working with veterans, and would love to connect you with lenders from our network who can help make VA dreams become reality.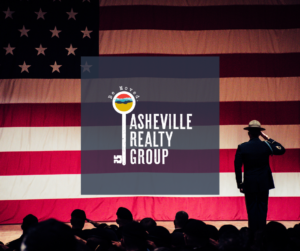 About Asheville Realty Group
Asheville Realty Group is a boutique brokerage firm offering full-service real estate services. We have locally experienced agents who specialize in residential homes, luxury homes, country-side acreage and everything in between. We love Asheville and the surrounding mountain communities that we call home!
Get in touch with us today by filling out the form below or give us a call at 828-252-1910
Contact Form
We would love to hear from you! Please fill out this form and we will get in touch with you shortly.