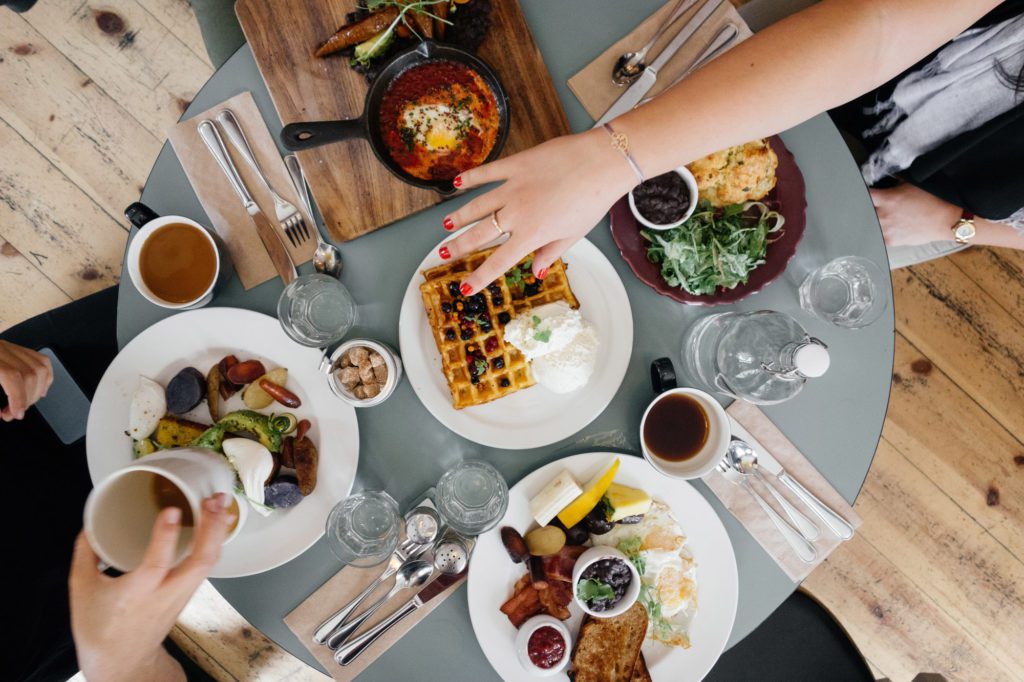 There are so many fabulous restaurants to try out in Asheville, NC and it seems like there is always something new popping up! Brunch is one our most looked forward to meals of the week around here—and for good reason.
If you're interested in a home in the Asheville area, you will have tons of brunch options to choose from.
We've put together a list of the best brunch spots in Asheville.
417 Biltmore Ave & 733 Haywood Rd.
This local favorite has biscuits and gravy every which way. Try one of their special biscuits or create your own dish. There are currently two locations—downtown and West Asheville. A third location is opening in South Asheville sometime in 2018. Don't let the lines scare you, this brunch will be worth the wait!
32 Broadway
This casual café serves a creative take on eggs and other classic breakfast and lunch fare in vintage-hip digs. Over Easy Café has a daily brunch and a special "Mimosa Monday" for anyone looking to take brunch to a new level. This Asheville restaurant has seasonal menu items and takes advantage of everything locally grown.
626 Haywood Rd
Sunny Point Café, located in West Asheville, is a family owned stop for American comfort food from morning to night. Enjoy their wide selection of breakfast, lunch and daily baked goods. This is a great location to eat outside as they have a covered patio.
348 Depot St.
Vivian, which used to be known as Salt and Smoke, is all about honest American food with big flavors utilizing the bountiful products of the region and the rich history of European cuisine. Their brunch is on Sundays from 10:30am- 2:30pm. Try their selection of pastry's, share a few of their small plates or go all in on one of their unique entrees. All paired with a brunch cocktail of course.
1 Biltmore Ave.
Posana's has contemporary American cuisine featuring local ingredients all served in a chic space (and a patio!) It's located in the heart of Downtown on Historic Pack Square Park. Try their poppy seed french toast, fresh salads, breakfast bowls, quiches or their fried chicken sandwich. There are no wrong choices on this menu!
8 Wall St.
Located just around the corner from our Patton Ave. office in Downtown Asheville, The Early Girl Eatery is a cheerful spot for Southern fare with all-day breakfast, meats, large plates and local brews and wine. Their farm to table menu has a wide selection of breakfast options like shrimp and grits, tofu scramble, cheese herb omelet and local sausage & sweet potato scramble. Their lunch selection features meats and veggies, sandwiches, and fresh salads all sourced locally.
This list is only the beginning of what Asheville has to offer. There are far too many tasty places than we can list here, so get out on the town and get to eating!
About Asheville Realty Group
Asheville Realty Group is located in the heart of Downtown Asheville, surrounded by the Blue Ridge Mountains. We are your local Asheville connection servicing the towns of Arden, Asheville, Black Mountain, Candler, Fairview, Leicester, Mars Hill, Hendersonville, Fletcher, and Weaverville to just name a few. As an independent group, our brokers combine their experience from successfully closing hundreds of transactions every year. Asheville Realty Group specializes in out of town customers, looking to relocate to Asheville, NC.
Get in touch with us today by filling out the form below or give us a call at 828-252-1910
Contact Form
We would love to hear from you! Please fill out this form and we will get in touch with you shortly.