It's so frustrating! Every time you find a home that finally meets all your needs, six other people are putting in offers! How in the world are you ever going to get in a home you love?
The easy answer is: Hire a real estate broker to help you. But that leads to more questions, mainly, how do you choose a broker who will best serve you?
Chances are, you know someone who is an agent. Your cousin Sue got her license last year. Your neighbor has been selling real estate for 25 years. Your best friend just sold her home, and the guy she found online got it under contract in a week. Which one should you choose, and does it really matter?
Well, if you want to not hate the whole home buying experience, yes, it matters. Many agents can meet the bare minimum requirements. You close; they move on to the next customer; you can't remember their name three years later when you want to sell, so you start all over again.
A great real estate broker looks very different than this.
As a home buyer, you deserve to have your interests protected at the very least, and your dreams fulfilled at best! Certain basic characteristics should be present in the broker you choose.
Communication Skills
Thoughtfulness & Patience
Attention to Detail
Negotiation Skills
Market Knowledge
Tech Expertise
A Strong Network
Professionalism
Looking for these characteristics when choosing an agent is important. Even more important is having a clear understanding with your agent about what each of you can expect from the other. For example:
Communication
Discuss what methods of communication work best. Perhaps when a new home comes on the market, you would like a phone call or text message – rather than an automated email. Conversely, perhaps your agent needs a text message when you see a property you would like to tour, since they can't answer their phone while with other clients. Make sure you understand your agent's response time and that it works for you.
Thoughtfulness & Patience
If this is your first home buying experience, you have every right to expect patient explanations of the process. Ultimately, you are the one signing a contract, so understanding what you are signing should be a priority – in fact – understanding the entire process. A great agent does not mind if you ask questions; they encourage it.
Attention to Detail
A small mistake on an Offer to Purchase a home could cost you an appliance, or a repair that was promised verbally. A skilled buyer agent knows how to read not only the listing details, but also the attached documents, and look for red flags. They do extra research when needed, and ask questions when things are unclear.
Negotiation Skills
In the past, this may have meant getting the sellers to lower the price of their home. These days, even with recent minor slowdown, a great negotiator is often one who knows how to make your offer stand out from all the others, while keeping it within the parameters with which you, the buyer, are comfortable.
Market Knowledge
This goes hand in hand with negotiation skills. Anyone can read the news and have a general idea what's going on in the real estate market. However, Asheville is not the same as Raleigh, or even Hickory. Certain zip codes and neighborhoods have an economy all of their own. Choosing a Realtor with hyper-local knowledge is imperative in a competitive market.
Tech Expertise
If you are in healthcare, sales, government, hospitality – basically any line of work – you know that technology is vitally important to doing the best job possible. As real estate agents, we have numerous IT tools available to us. A great broker will utilize the newest and best tech applications for everything from streamlining paperwork to researching a property's investment potential.
A Strong Network
If you are moving into a new area, chances are you do not know a local real estate attorney, a banker, an insurance company, a home inspector and reliable contractors. Your agent should. Part of a buyer agent's repertoire is knowing to whom to send you for every piece of a home purchase transaction. Your agent may not know everything, but we know people who do!
Professionalism
Finally, buying a home can bring with it some emotions – for you, the home buyer. Your agent is your buffer. Your buyer agent can listen to you (respectfully) vent, filter through the emotions to get to the facts, work with you to develop a strategy, and implement that strategy toward getting your desired results. What more could you ask for?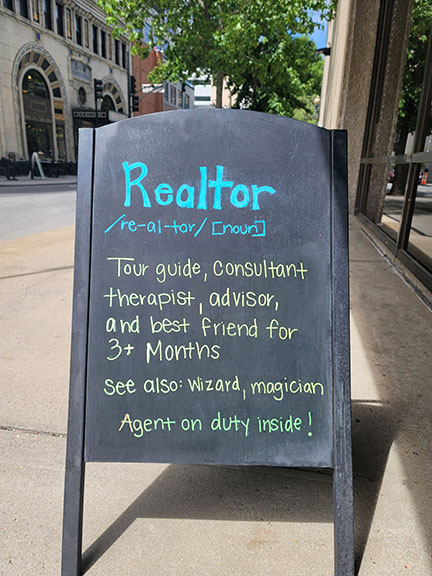 About Asheville Realty Group
Asheville Realty Group is a boutique brokerage firm offering full-service real estate services. We have locally experienced agents who specialize in residential homes, luxury homes, investment properties, country-side acreage and everything in between. We love Asheville and the surrounding western North Carolina mountain communities that we call home! Get in touch with us today by filling out the form below or give us a call at 828-252-1910.
Contact Form
We would love to hear from you! Please fill out this form and we will get in touch with you shortly.