Pricing Your Home
The most important aspect of listing your home for sale is the price. Curb appeal is very important. Decluttering is a must. Making repairs prior to listing helps immensely. But a home that is overpriced for what it is will sit and get stale, until you correct the price and get it down to what the market will support. Likewise, a home that may not be in it's best condition, or one that's not in a convenient or beautiful location – they can and will sell quickly – as long as they are priced correctly.
Market Value
Unlike many other items we purchase, home prices are based on what a willing and able buyer would pay for the property. That is called market value.
There are other values that could be assigned to your home:
Appraised value
Assessed value
Replacement value
But the one that determines what price your home will sell for is market value.
Sounds complicated, right?
This is why real estate agents bring comp ( short for comparable properties) information with them to the discussion. Yet are you using the right comps to successfully price your home? And can simply comparing your home to recently sold properties give you the best price? At Asheville Realty Group, we have several tools we use to determine market value.
The CMA – Comparative Market Analysis
The idea is to gather information about comparable properties that have sold recently that are similar to your own. The goal is to compare apples to apples. In other words, the properties should be as close to the subject home as possible. This includes things like:
Location – how far is the property from yours.
Size – square footage is an important aspect of value.
Number of bedrooms/bathrooms – even if the square footage is close, the number of bedrooms and bathrooms can have a large effect on
price.
Style, view, street, yard – even the exact same floor plan can have vastly different value based on the street it's on or the view. Size of the yard and privacy are also critical components of value.
Amenities – private or community pools and other amenities can affect value as well.
Your agent will bring recent sales for homes that compare to yours. As you look through these listings, you can add or subtract values based on the differences. This is the same process an appraiser will use to approve the loan. While this is more of an art than a science, the right comps can help you properly price your home for a smooth sale.
Absorption Rate Analysis
As you've seen, the CMA shows you what prices homes have sold for in recent weeks. But the CMA is looking at the past – so it's only part of the picture.
A real estate expert will also look at direction of the localized market. With a few calculations, a great agent will be able to tell you precisely whether it is a buyer or seller market – not based on commentary – but based on statistics.
To determine the balance of the local real estate market, your agent will run a property search for your specific area. They will:
Look up the total number of active listings on the market last month.
Look up the total number of sold transactions for last month.
Divide the number of active listings by the number of sold listings. This will result in the current number of months of inventory at this precise point in time.
Based on supply and demand, this calculation will tell you if you are in a buyers or seller's market. Generally speaking, six months or less of inventory is considered a seller's market. Six months or more of inventory is considered a buyer's market.
Price Positioning
Finally, a local real estate expert will present you with a list of all the properties that are currently listed for sale. These will be your competition.
This may or may not include homes in your exact neighborhood.
This is where the expertise part comes in. At Asheville Realty Group, our agents actively work with both buyers and sellers. We know the pulse of our market. For example, we know that most home buyers looking in North Asheville are probably not considering Leicester. And that home buyers looking in Arden may be open to east or west Asheville as well.
With insights like these, we can evaluate your current competition, and help you position your property at a price point that will make it most attractive to potential buyers.
Past, future and present.
So with these tools, you will have a picture of the past, future and present states of the local market. Using all of the tools and knowledge at our disposal, along with evaluating the property you wish to sell, Asheville Realty Group agents can advise you on what is needed to meet your goals in the sale of your home.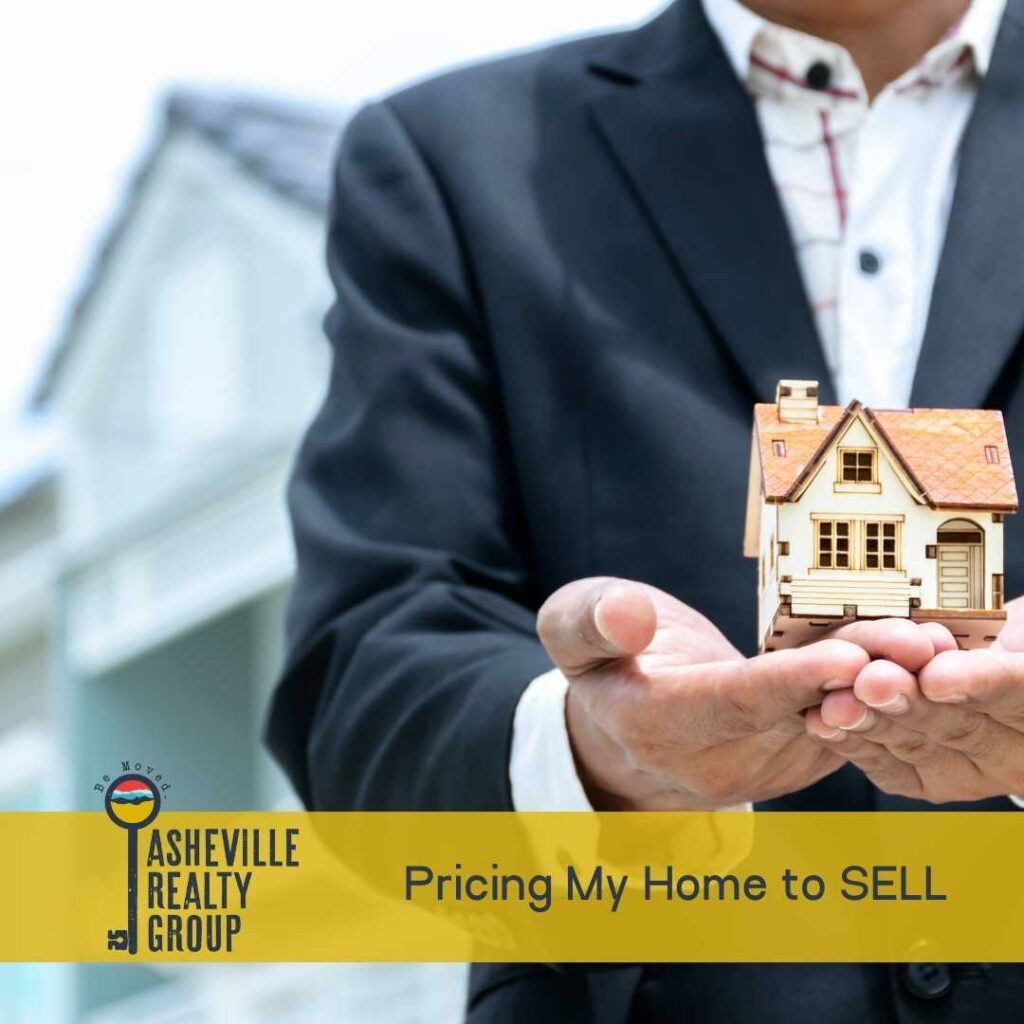 What's My Home Worth?
Complete the required information about your home and receive a FREE analysis of your homes approximate value on the market today.