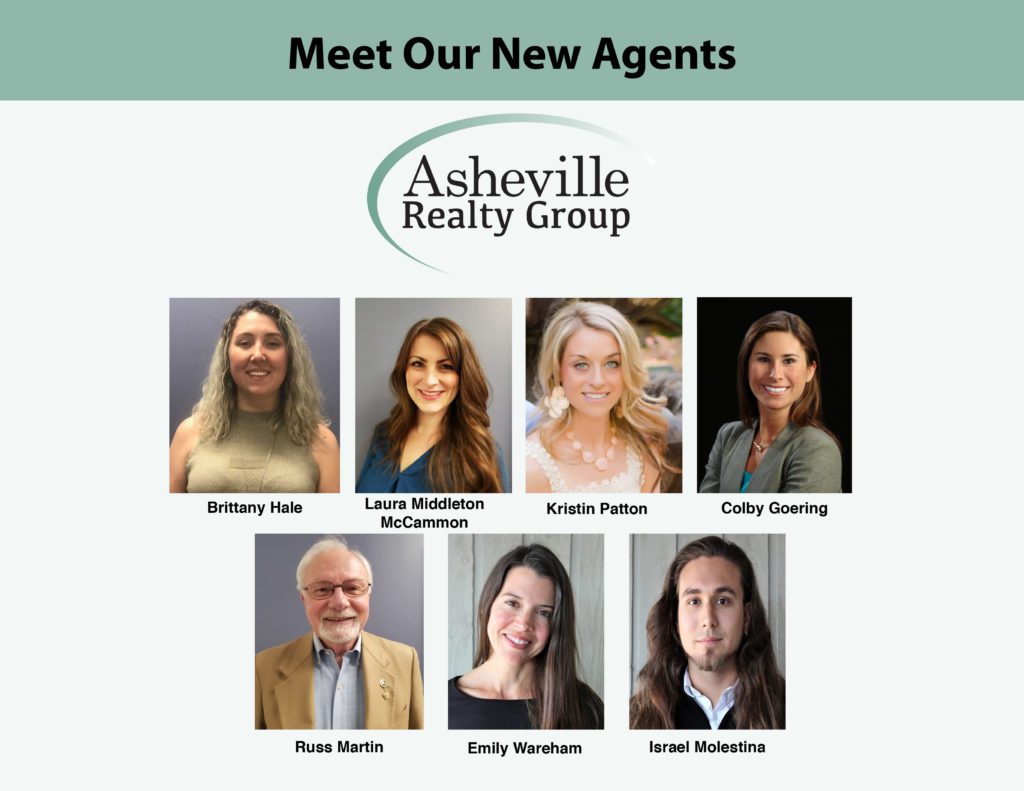 Asheville Realty Group is proud to welcome the addition of 7 new Real Estate Agents to the team. Including the new members, there are now 30 realtors on staff at Asheville Realty Group.
The property market demand led Asheville Realty Group to expand its team to keep up with our exceptional client services. Our team is committed to helping clients with the guidance and support needed throughout the entire buying and selling experience.
Meet the New Agents:
Seeking somewhere to call home that offered her a setting to invest in herself, Brittany Hale discovered Asheville during a trip to visit family in Maryville, TN. She recognized immediately Asheville offered more than great music, food, art and culture: it offered community, beauty, opportunity, and natural sanctuary. Her love for this community, and the people in it, led her to real estate, where she is happy to serve anyone from the first-time home buyer, growing families, empty nesters, second homeowners, and retirees. Meet Brittany
Colby Goering has lived in Florida, Georgia, Massachusetts, and California before happily setting here in North Carolina. She has a background in finance and healthcare equipment sales and has always been interested in the complexities and dynamics of the Real Estate market. Meet Colby
Emily is a native North Carolinian and has lived in Asheville for the last decade. She is a graduate of The University of Georgia and has a passion for all things Asheville. In her spare time you can find her trail running, biking, enjoying local breweries or hanging out with her children. As an Ironman participant, she finds that her drive and perseverance for the sport go hand and hand with Real Estate. She started her real estate career because she loves this city and enjoys helping others "Be Moved in Asheville". Meet Emily
Over the years, Laura has created a happy life here in Asheville, developing a small business as a personal chef serving local families and purchasing her first home. It was through the home buying process and a complete home renovation that Laura discovered the joy of finding a forever home. It is that feeling of excitement and pride that she works to create for her clients. Meet Laura
Using the work ethic he has cultivated over the years and his knowledge of Asheville and the surrounding area, Israel will gladly work with you to help you find the perfect home, or to help you sell your home so you can move on to bigger and better things. Meet Israel
Kristin's roots grow deep within the Western North Carolina community, her family has been in WNC for over 6 generations. Kristin Patton takes pride in the heritage and the emerging growth Asheville has experienced over recent decades. Kristin holds a B.S. in Exercise Physiology from East Carolina University and an MBA from Western Carolina University. She has a passion to serve the community and help buyers/sellers navigate through every aspect of their real estate journey as seamless as possible. Meet Kristin
Russ Martin arrived in The Land of The Sky in 1971, and immediately fell in love with the people and the mountains. He was instrumental in the creation of the Grove Park-Sunset Mountain HOA in 1972. He also participated on stage at ACT, and became a member of the Kiwanis Club of Asheville. Later he joined the boards of UNC Asheville, A/B Tech, and the WNC Arboretum. In 1987, Russ was elected to the Asheville City Council, and in 1993 and 1995 became Mayor of the City. Russ is committed to the citizens and newcomers to Asheville. Meet Russ
There is always a real estate agent on site at our downtown Asheville location on 47 Patton Avenue. Stop by today.
Get in touch with one of Asheville Realty Group's trusted agents!
About Asheville Realty Group
Asheville Realty Group is located in the heart of Downtown Asheville, surrounded by the Blue Ridge Mountains. We are your local Asheville connection servicing the towns of Arden, Asheville, Black Mountain, Candler, Fairview, Leicester, Mars Hill, Hendersonville, Fletcher, and Weaverville to just name a few. As an independent group, our brokers combine their experience from successfully closing hundreds of transactions every year. Asheville Realty Group specializes in out of town customers, looking to relocate to Asheville, NC.
Get in touch with us today by filling out the form below or give us a call at 828-252-1910
Contact Form
We would love to hear from you! Please fill out this form and we will get in touch with you shortly.