It's been difficult to adjust to a new normal during the past few weeks. With most Asheville residents being asked to stay at home, there are many who have recently lost their jobs or been asked to work remotely. The mortgage industry has also taken a big hit that has directly affected homeowners, renters, and investors alike.
There are many who are in the final stages of closing on their homes, and the current pandemic has made it difficult to efficiently move forward with the process. To help, desktop and  exterior only appraisals are being accepted as long as there is sufficient property information available online. Potential borrowers can also now submit their verification of employment via email, pay stub, or bank statement to help streamline the process.
Significant changes have been made during the recent outbreak of COVID-19 to help homeowners get through this trying time. Those who have lost their jobs may be eligible for reduced or suspended mortgage payments for up to 12 months while they regain their footing and find new employment. All foreclosure sales and evictions have also been suspended for 60 days to give borrowers a chance to catch up on their payments. Homeowners who are behind on their mortgage will also receive help to create a plan to maintain or reduce their monthly payments moving forward.
Renters who are currently unable to make their monthly rent payments are advised to reach out directly to their landlords. Owners of these properties will be given mortgage forbearance by Fannie Mae and Freddie Mac if they suspend all evictions for renters that have been directly affected by COVID-19. This plan is directly designed to prevent tenants from being evicted because they are unable to pay their rent due to a recent loss of their job.
One benefit of the recent changes in the mortgage market is that interest rates have been near an all-time low, and it may be an excellent time to buy your first home or refinance your current mortgage. If you've had your eye on the market for a while now and want to take advantage of the current interest rates, it's the perfect time to call your loan officer and start the process of locking in your rate before interest rates start to increase again.
It can be hard to keep track of all the changes. Lenders are working around the clock to answer all your questions and will support you in any way that they can. Give us a call at Asheville Realty Group if you need help finding a lender or have any real estate questions.
Blog compiled by Erin Secretarski, a licensed agent and Director of Getting Stuff Done at Asheville Realty Group.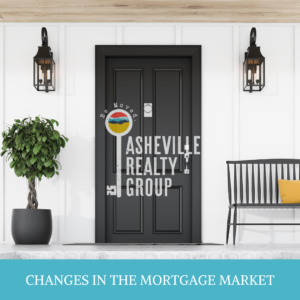 About Asheville Realty Group
Asheville Realty Group is a boutique brokerage firm offering full-service real estate services. We have locally experienced agents who specialize in residential homes, luxury homes, country-side acreage and everything in between. We love Asheville and the surrounding mountain communities that we call home!
Get in touch with us today by filling out the form below or give us a call at 828-252-1910
Contact Form
We would love to hear from you! Please fill out this form and we will get in touch with you shortly.