Technology is helpful in so many areas of life, even real estate. Twenty years ago, if someone were moving across the country, they'd have to wait to buy a house until they arrived to start their new life, or they'd have to buy a home without seeing it in person beforehand. Both options would cause extra unwanted stress on top of moving to an unfamiliar place.
When it comes to creating a virtual tour, don't panic. A real estate agent with Asheville Realty Group will be there to guide you through the entire process. An agent may help to schedule a photographer to come to your house, or utilize software to create a virtual tour that can be added to the listing. Real Estate Agents can also use FaceTime, Zoom or other apps to give their customers a live tour of areas of a house that aren't included in a virtual tour or photography of the listing.
There are a few ways to prepare your home before filming a virtual tour. Start by turning on all the lights in your home and opening the blinds or window coverings. You'll need optimal lighting to get the best footage, so your realtor will most likely schedule filming in the morning or late afternoon. Take time to clean your house before the virtual tour and remove all clutter and any furniture you don't want to be seen. Your realtor will help you with a simple staging of your home beforehand so it looks presentable in the video. The great thing about staging for a virtual
tour is you'll only have to keep it that way for a couple of hours before you can put everything back where it belongs.
Once the virtual tour of your house has been edited, it'll be ready to show potential buyers. Your real estate agent will show you the final footage and add it to your listing. Anyone interested in taking a virtual tour can easily watch it online to get a good idea of what to expect in person. When you've decided it's time to sell your home, a virtual tour can be a great way to get more people to see it and secure a buyer in less time than a traditional open house. Not only does it give potential buyers a first glimpse, but for the most part, ensures that only people who are seriously considering purchasing your home request a tour or show up to the open house.
Blog compiled by Erin Secretarski, a licensed agent and Director of Getting Stuff Done at Asheville Realty Group.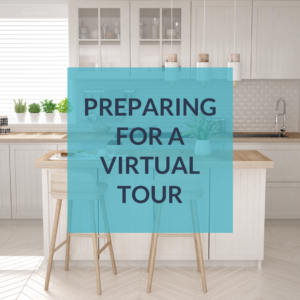 About Asheville Realty Group
Asheville Realty Group is a boutique brokerage firm offering full-service real estate services. We have locally experienced agents who specialize in residential homes, luxury homes, country-side acreage and everything in between. We love Asheville and the surrounding mountain communities that we call home!
Get in touch with us today by filling out the form below or give us a call at 828-252-1910
Contact Form
We would love to hear from you! Please fill out this form and we will get in touch with you shortly.