There is no question that Asheville, North Carolina is a hot spot for get-aways.  The travel industry has changed significantly over the past decade. With the popularity of vacation rentals advertised by such sites as Airbnb, VRBO, and Home Away, travelers have more options than ever for lodging during their vacation. Unfortunately, 2020 has seen a serious decline in travel due to the COVID-19 crisis and many owners of these short-term rental properties are wondering what to do.
If you have a short-term rental property, you might be wondering if this is the right time to sell. Here are a few considerations as you weigh your options:
• Long Term Goals – While travel is down significantly right now, this slump won't last forever. If this property is part of your overall investment portfolio which makes sense for the long run, consider other strategies to keep the rental. If you have a mortgage, speak to your lender about payment options during this time.
• Housing Inventory and Local Home Prices – Housing inventory is down about 20% year-over-year according to the National Association of Realtors®. Lower inventory has also prevented home prices from falling in most areas.
• Historically Lower Interest Rates – Interest rates have dropped significantly since the beginning of the year. It might be time to refinance the property. In addition, if you do decide to sell, buyers are better positioned to buy.
This is a confusing time for everyone. The robust business of short-term rentals has certainly been affected over the past few months and the travel industry will suffer this summer. If you own a short-term rental, consider all your options as you decide whether it's the right time to sell your property.  Contact an agent at Asheville Realty Group to help determine your next step!
Blog compiled by Erin Secretarski, a licensed agent and Director of Getting Stuff Done at Asheville Realty Group.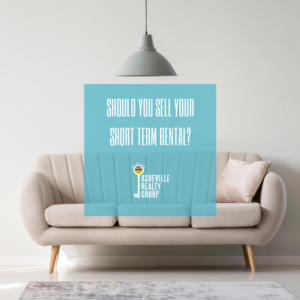 About Asheville Realty Group
Asheville Realty Group is a boutique brokerage firm offering full-service real estate services. We have locally experienced agents who specialize in residential homes, luxury homes, country-side acreage and everything in between. We love Asheville and the surrounding mountain communities that we call home!
Get in touch with us today by filling out the form below or give us a call at 828-252-1910
Contact Form
We would love to hear from you! Please fill out this form and we will get in touch with you shortly.