If you have started a search for an Asheville real estate agent , you might have already realized that most agents tout themselves as experts on a type of property they typically work with—local experts, lakefront experts, luxury condo experts, etc. There are times when working with a specialized agent with advanced designations is important.
The National Association of Realtors® offers advanced designations to help consumers choose the right agent for their needs. Here are just a few certifications that address unique circumstances:
• Military Relocation Professional – (MRP): These specialists have been trained on benefits and programs available for military families, and have expertise in VA funding.
• Short Sales and Foreclosure Resource – (SFR): Navigating the lender requirements for selling a distressed property requires expertise. These agents have been trained to help homeowners in these situations.
• Green Designations – (GREEN): A GREEN agent can offer information about sustainable building, restoration, remodeling, and energy efficiency standards.
• Accredited Buyer's Representative – (ABR): Agents with this designation have learned how to offer homebuyers superior service.
• Certified Residential Specialist – (CRS): This is the highest credential awarded to residential agents and guarantees a high level of experience.
• Seniors Real Estate Specialist – (SRES): Agents with this specialized certification are specially equipped to help senior citizens with their real estate needs.
• Real Estate Negotiation Expert – (RENE): This certification means the agent has taken negotiation classes with NAR and has passed advanced technique training.
Not everyone needs a real estate specialist, but these National Association of Realtors® specialized certifications can help you find the right agent for your unique needs.
We have an incredibly talented and experienced group of real estate agents at Asheville Realty Group!  In fact you can use the agent match feature on our website to find an agent with a specialty here at our firm.  Or, call us and we can match you with a specialist today! 828-252-1910!
Blog compiled by Erin Secretarski, a licensed agent and Director of Getting Stuff Done at Asheville Realty Group.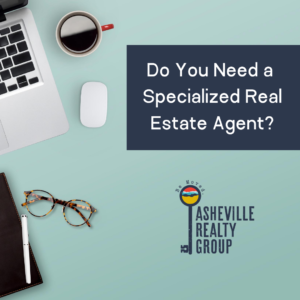 About Asheville Realty Group
Asheville Realty Group is a boutique brokerage firm offering full-service real estate services. We have locally experienced agents who specialize in residential homes, luxury homes, country-side acreage and everything in between. We love Asheville and the surrounding mountain communities that we call home!
Get in touch with us today by filling out the form below or give us a call at 828-252-1910
Contact Form
We would love to hear from you! Please fill out this form and we will get in touch with you shortly.