Everyone is spending more time at home right now. With so much time on our hands, it's natural to want to spruce up our homes. While furniture stores and other retailers may still be closed, the good news is there are home improvement stores and online delivery to help us make the best use of this time and make some easy changes to freshen up our homes.  Here's what some in the Asheville area have done to make big improvements!
7 Easy Ways to Spruce Up Your Home
1. Outdoors – Big box home improvement stores are open and full of spring blooms; this is a great time to add color to your yard.
2. Update Your Kitchen – Kitchen trends have changed. Add some color to your space with modern paint or even a colorful appliance.
3. Re-imagine Your Living Room – With a little time to kill, try moving your living room furniture around for a fresh look. Visit a local big box store for decorative pillows, area rugs, frames, vases, and other décor details.
4. Change Your Walls – An accent wall is an easy way to liven up your space. Invest a couple of hours to paint one of your walls a fresh color. Build a gallery wall with family or vacation pictures – anything that draws attention to the wall and interest to the room.
5. Improve the Lighting – Simple things like installing new light bulbs or fixtures can really change the mood of a room.
6. Plant a Garden – Whether inside or out, there's no better time to try your hand at an herb or fresh vegetable garden.
7. Clean and Organize – Take the time to finally tackle that cleaning project.
We're all spending more time at home; as we appreciate our homes more, we can also take this opportunity to tackle some of the changes we've been wanting to make.  If you have any questions about adding improvements to your home call us at Asheville Realty Group today, we are here to help!
Blog compiled by Erin Secretarski, a licensed agent and Director of Getting Stuff Done at Asheville Realty Group.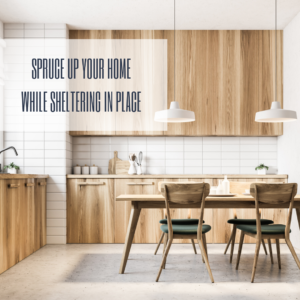 About Asheville Realty Group
Asheville Realty Group is a boutique brokerage firm offering full-service real estate services. We have locally experienced agents who specialize in residential homes, luxury homes, country-side acreage and everything in between. We love Asheville and the surrounding mountain communities that we call home!
Get in touch with us today by filling out the form below or give us a call at 828-252-1910
Contact Form
We would love to hear from you! Please fill out this form and we will get in touch with you shortly.