Now that warmer weather is upon us in the Asheville area, the focus turns to the outdoor space of our home. As Americans spend more and more of their time at home, this might be the perfect time to invest in a new pool or pool remodel. Here are 5 trends in pool design for 2020.
1. Natural Pools – As more of us consider the effect of chemicals on our health, more pool owners are installing natural pools. These pools are built to resemble a natural pond with boulders, waterfalls, and plants which filter the water naturally. The pool is filled with filtered water and maintained in an organic filtration process using gravel and plants.
2. Saltwater Pools – Another way to avoid chlorine is by installing a saltwater pool. These pools use a salt-chlorine generator to provide residue-free water and this process has been growing in popularity for over a decade.
3. Tanning Ledges – Also known as a Baja shelf, or sun shelf, a tanning ledge is a shallow shelf that allows you to stay cool while still enjoying the sun.
4. Rimless Infinity Pools – Infinity pools have been enjoyed at expensive resorts and spas for years, and more homeowners are now opting to include these beauties in their own yards.
5. Custom Fit Pools – As yards get smaller, the pre-formed pools are no longer practical.  Almost any yard can fit a pool by having a custom pool designed to fit the space.
Summertime is pool time. As 2020 requires more of us to stay home, a new or remodeled swimming pool is a great way to enjoy our own backyards.  Contact us at Asheville Realty Group today and we will help you find a home with a pool, we are always here to help!
Blog compiled by Erin Secretarski, a licensed agent and Director of Getting Stuff Done at Asheville Realty Group.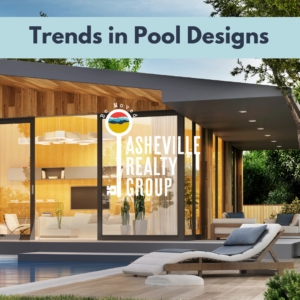 About Asheville Realty Group
Asheville Realty Group is a boutique brokerage firm offering full-service real estate services. We have locally experienced agents who specialize in residential homes, luxury homes, country-side acreage and everything in between. We love Asheville and the surrounding mountain communities that we call home!
Get in touch with us today by filling out the form below or give us a call at 828-252-1910
Contact Form
We would love to hear from you! Please fill out this form and we will get in touch with you shortly.