Quaint towns and southern hospitality… just down the road from Asheville.
Whatever your pleasure, you'll find it and fall in love with the slower pace of life in Western North Carolina.  Read more in the 

ARG August Newsletter .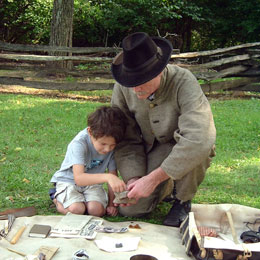 Bring a picnic basket for a scenic drive to the town of Woodfin. Parks, lakes and tree-lined streets offer sunny spots to enjoy rolling hills with a  mountain backdrop. Head over to Ledges Whitewater Park and watch kayakers practice basic skills in this gentler, rolling section of the French Broad  River. History buffs! You don't want to miss the nearby birthplace of Western North Carolina's Civil War governor and most successful politician,  Zebulon Baird  Vance. Learn about antebellum farm life and Vance's famous mountain family on a tour of this reconstructed pioneer homestead  nestled in  picturesque Reems Creek Valley.
 Just 15 miles from downtown Asheville, Black Mountain offers old-time southern hospitality, small-town charm and unique  dining. The  downtown area has many eclectic shops, attracting seasonal tourism, a main staple of the local economy.There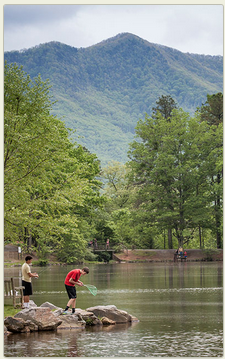 are also many quaint bed and breakfasts. Black Mountain College was formerly located within city limits, but the Black Mountain College Museum and Arts Center, dedicated to the experimental educational institution's history, is now located in downtown Asheville, North Carolina.

A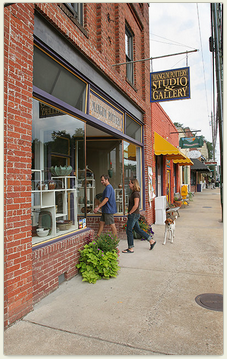 n idyllic setting where the population hovers around a mere 2,500, Weaverville might surprise you as an anything-but-sleepy  mountain town. Known for its lush and lively downtown, Weaverville is just minutes away from inspiring views on the Blue Ridge  Parkway and the pastoral scenes of historic Reems Creek Valley. You can't help but feel welcomed in a community whose reputation  for hospitality and healthful climate dates back to the 1800s.
Start the day with a walk down tree-lined Main Street, where you'll follow your nose to fresh gourmet coffee and artisan baked  goods. As the sun warms, feed the ducks under the willow trees at Lake Louise Park. Or, get your vintage fix as you browse shop-to-shop for antique  treasures.