HAVE YOU HEARD ABOUT THE CRAZY LACK OF INVENTORY OF HOMES AROUND THE COUNTRY? Or that people are leaving large metropolitan areas for mid-sized cities?
Asheville has always been a desired destination, but even more so, now. As a result, we now have very low inventory, bidding wars, and rising prices are making it difficult for some people to find  their dream home.
Increasingly people are looking at vacant land, and choosing to build their own home. If you've ever considered building, this might be the perfect time. And the truth is, it might be easier than you think to get a construction loan.
What is a construction loan?
Construction loans start out as short-term, higher-interest-rate mortgages that cover the cost of building or renovating a home. The buyer qualifies for the final mortgage and the lender pays the contractor for cost on a pre-approved schedule. Once the construction is complete, the loan is converted into a traditional home loan.
Types of Construction Loans
• Construction to Permanent – Converts to a permanent loan with the interest rate locked in at closing.
• Construction Only – Must be paid off when construction is complete, so the borrower will then need to get new financing.
• Renovation Construction Loan – Cost of renovations are included in the original mortgage based on the value of the home after the repairs or upgrades. Best used for buying a fixer-upper property.
What's included in the loan?
The construction loan generally pays for:
• Land
• Labor and materials
• Plans, permits, and fees
• Contingency reserves to allow for changes and delays
Can I qualify?
All mortgages have minimum qualifications for approval. Construction loans are riskier for the lender because there is no existing collateral in the form of the home. Along with typical requirements for debt-to-income limits and FICO score minimums, the lender will often ask for a higher down payment (30% is typical) and a plan to pay off the loan at the end of the project (proof of cash or loan).
Building from scratch offers many benefits to the homeowner. The blank slate is appealing. You can get the features you want, and do away with those you don't need. By taking advantage of a construction loan, you can build the home you want.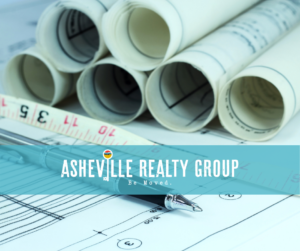 About Asheville Realty Group
Asheville Realty Group is a boutique brokerage firm offering full-service real estate services. We have locally experienced agents who specialize in residential homes, luxury homes, country-side acreage and everything in between. We love Asheville and the surrounding mountain communities that we call home!
Get in touch with us today by filling out the form below or give us a call at 828-252-1910
Contact Form
We would love to hear from you! Please fill out this form and we will get in touch with you shortly.