How does an expert in 'creative retirement'… retire?
When Dr. Ron Manheimer retired in 2009 as founding director of the North Carolina Center for Creative Retirement (now the  Osher Lifelong Learning Institute or OLLI) at UNC-Asheville, he thought he knew how to leap into the next chapter of life.
Heading this lifelong learning, leadership and community service program at the University, he had led countless weekend workshops for hundreds of people considering their next chapters.
He formulated his approach as Ten Keys to a Creative Retirement. One of the keys, "adaptive reuse," advised pre-retirees to reflect on how they might extend their accumulated talents, knowledge and interests, and project them into new yet related activities. As an example, Ron points to a former banker with a love of classical music who became the treasurer of the non-profit board of a civic orchestra.
But instead of following his own best repurposing advice, Ron headed elsewhere. "For a truly creative retirement, I decided I should try to come up with activities that would be unprecedented for me," he says.
Not much of a gym guy, he found a personal trainer, developed an exercise program, lost 25 pounds and took up hiking. Apprehensive about death, he became a hospice home visitor. A longtime grant seeker, he joined the board of a foundation that funds other people's projects.
"I loved these new ventures but then I started running out of inspiration," he says. "I still had lots of time on my hands and, though I was beginning to feel anxious, I didn't want to fill up my time just to keep busy."
Ron went back to his keys to a creative retirement and took another look at adaptive reuse. "I thought, how can I extend the things I've done for many years and make them fresh again?"
An author of several books and a raft of scholarly and popular articles, he came across a deferred book project. "Clearing out some old computer files, I discovered the chapters I had put aside several years earlier. I felt the spark of intellectual excitement still alive in those pages. It was about how philosophers portray their own life experiences and realize their most noteworthy ideas.
"I loved tracing how thinkers who have had such an important impact on world history described their own life-changing experiences. What if I could put myself into the mind of a Jean-Jacques Rousseau, a Simone de Beauvoir, or someone I admired as both philosopher and social activist, Mahatma Gandhi? Where could that take me and take my readers? Maybe I could hitch my midlife transition to their self-transformation."
How did it turn out?
Author Harry R. Moody (The Five Stages of t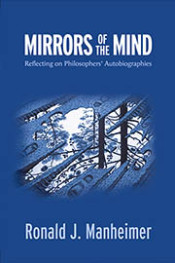 he Soul) says of Manheimer's Mirrors of the Mind: Reflecting on Philosophers' Autobiographies: "Imagine you could sit down and talk personally with the greatest philosophers. Imagine having coffee with Augustine or Rousseau or Kierkegaard. Ever had a fantasy about chatting with Sartre and de Beauvoir in a Paris cafe? This is a one-of-kind book in which masterful scholarship is concealed behind a delightfully readable text."
West Texas A & M philosophy professor and former university writing center director David Hart sees Mirrors of the Mind as an excellent introduction to philosophical autobiography and, in certain ways, to philosophy in general. "Manheimer is like one of those masterful guides, who knows all the best spots – the twin gardens of Augustine, Rousseau's country lane, and many more besides. First-time visitors to philosophy may find themselves wanting to stay, while locals will surely be surprised by the resources right under their noses."
And Mars Hill University philosophy and religious studies professor Katharine Meacham comments: "Students are drawn to philosophy because in order to live the life worth living – the examined life – the ideas of the great thinkers connect with their own. To explore the lives of these thinkers who have helped construct our intellectual world, using narrative, metaphor, whimsy, and rigorous philosophical argument is a delightful way to invite students into the search for wisdom. Manheimer has crafted an original work with Mirrors of the Mind, the result of decades of his own philosophical autobiography."
Trade paperback and eBook editions are on sale at retail outlets worldwide and directly from the publisher.
Soft cover ISBN: 978-0-9884122-8-6; 337 pp; $25.95.
More information and links at http://jorvikpress.com/books/mirrors-mind/
Email contact: editor@jorvikpress.com
Biographical
Ron Manheimer came to Asheville in 1988 to head up the newly forming NC Center for Creative Retirement at UNC-Asheville. The program grew from a couple hundred participants to today's 2,200 members while garnering national renown. Until his retirement, Ron also held a position in the philosophy department as Research Associate Professor. Manheimer has written extensively on lifelong learning, human development, aging and philosophy as reflected in one of his previous books, A Map to the End of Time: Wayfaring with Friends and Philosophers (Norton, 1999). In creative retirement, Ron continues to teach, serve on foundation and professional editorial boards, play with his three local grandsons (offspring of daughter, Esther Manheimer, Mayor of Asheville, and Mark Harris, social studies teacher and wrestling coach at Enka High School), and volunteer in the community. Ron loves to hike through Asheville neighborhoods with his other daughter, Kora Manheimer, an interactive television producer, and his wife, Gail Manheimer, an associate with a local Realty Group.