Asheville NC Neighborhood of the Month:
Beverly Hills Neighborhood
About eight minutes from downtown Asheville NC, to the right off Tunnel Rd, is the subdivision of Beverly Hills. This older neighborhood is built in and around the Asheville Municipal Golf Course. Going through the community and out the other side puts you on Swannanoa River Road (Route 81), across the road from the Western North Carolina Nature Center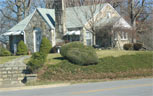 . The homes range from a historical bungalow built in 1927 to a contemporary built in 2000. Generally speaking, however, most of the homes are ranch-style and built between 1947 and 1967.
The yards in the neighborhood tend to have mature landscaping. There are lots of tall trees and a park area where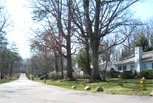 children can play. The yards of the homes vary from .18 to .77 acre. Besides being just off Tunnel Road and all the businesses there, Beverly Hills is also not far from the River Ridge Market Place and a number of other shopping centers. This hilly, wooded neighborhood is very convenient yet also has a private, removed feel.
Map of Beverly Hills neighborhood