North Asheville Welcomes Boutique Realty Firm
Asheville, 8/11/21 – Asheville Realty Group, a visible presence in downtown Asheville since 2007, has branched out to embrace the community of North Asheville with the grand opening of a satellite office on Merrimon Ave.  Locals have been stopping by happily commenting on the colorful transformation of a neighborhood staple, the old State Farm office on the corner of Merrimon and Colonial. (And for those of you who are wondering, as many people have asked, the exterior color is Anchors Aweigh by Sherwin-Williams.) The grand opening of Asheville Realty Group's North Asheville location will take place on August 13, 2021.
Both Asheville tourism and real estate are booming. With so many visitors to the area buying homes or second homes here, Asheville Realty Group wants to reach out to community members who may not frequent downtown Asheville as much. "For years we have served the residents of all corners of WNC, specializing in the city of Asheville and neighborhoods just outside downtown. Our owner, Hadley Cropp, and many of our agents are long-time residents or natives of North Asheville, and we feel a special connection with that part of the city," explains managing broker Janis Hall.
The new office will be a comfortable place for area residents to come in, sit down, and talk over their real estate goals and needs with a local expert. Asheville Realty Group clients will have a convenient location to go over paperwork, look at property listings, etc. The new location, 788 Merrimon Avenue, will be staffed Monday through Friday, from 11 am to 4 pm, or open by appointment by calling 828-252-1916.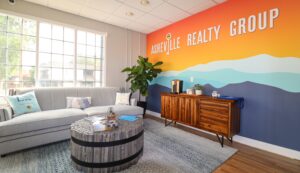 About Asheville Realty Group
Founded by veteran broker Bobbie Baxter in 2007, Asheville Realty Group has sustained solid growth every year since – growing from a handful of experienced agents to thirty-nine, and counting! That growth can be attributed to a company culture focused on core values of integrity, relationships and hard work.
In 2019, Bobbie retired, and the torch was handed to Hadley Cropp, one of the original brokers at the foundation of Asheville Realty Group's success. After purchasing the company, Hadley took on updating and expanding the ARG brand, to include a focus on the "Luxe" collection featuring high end properties and some commercial opportunities as well. Opening a satellite office to serve the North Asheville community is the next step to realizing the goal of serving all of Asheville with excellence and dedication.