According to Lonely Planet, "This Jazz Age gem of a city appears like a mirage out of the mists of the Blue Ridge Mountains".
Asheville is a popular tourist destination and is known as a liberal, artsy community. It was named one of the world's top 12 must-see destinations for by Frommer's travel guides. This "Paris of the South," has also been described as the "San Francisco of the East," "New Age Mecca," and "Land of the Sky." It's a city of which Rolling Stone magazine dubbed "America's New Freak Capital." But Asheville is by no means simply a haven for Hippies and 'Out There's', as Money magazine has called Asheville one of the "Best Places to Retire," and AARP cites it as one of the "Best Places to Reinvent Your Life." Self magazine proclaims Asheville as America's "Happiest City." PETA lists Asheville as "America's Best Vegetarian-Friendly Small City." Author Lee Pantas, in his guidebook The Ultimate Guide To Asheville & The Western North Carolina Mountains says it all in describing Asheville "as a city not easily forgotten once visited". In 2007, Asheville was named one of the top seven places to live in the U.S. by Forbes, and in 2011 Asheville was picked as one of the "10 Most Beautiful Places in America" by Good Morning America. From its titles alone one can easily see that Asheville is the place to go to see diversity in action.

Climate
Asheville has four distinct seasons: spring, summer, fall, and winter. Year-round, the average relative humidity in the morning is 90% and in the afternoon is 58%. Summers are mild and afternoon thunderstorms are not uncommon. In the fall (peaking in October), the area is very popular with "leaf lookers", people who visit Asheville and the surrounding mountains to see the area's splendid foliage. Winters are generally mild and major snow storms are rare- usually the area receives multiple snow flurries averaging an inch or two at a time, normally melting off in a day or two.
Travel there
By plane
The Asheville Regional Airport (AVL)  is Western North Carolina's largest airport. It offers jet and commuter service on United, US Airways, and Delta through its carriers – Atlantic Southeast Airlines and Comair. Asheville has non-stop service to Atlanta, Charlotte, Chicago, Detroit, New York City, Newark, Orlando and Tampa. It is located fifteen miles south of downtown Asheville near the town of Fletcher. Ground transportation and major rental car companies are available at the airport terminal.
Flights into Greenville-Spartanburg International Airport (GSP) located in Greenville, South Carolina, Charlotte Douglas International Airport (CLT)  located in Charlotte, North Carolina, or McGhee Tyson Airport (TYS)  located in Knoxville, Tennessee, are sometimes cheaper than flying directly to Asheville. Greenville is about a 1.5 hour drive, Charlotte and Knoxville are both about 2 hour drives.
By train
The closest Amtrak train station to Asheville is in Greenville, South Carolina or Spartanburg, South Carolina.
By car
Asheville is located at the junction of Interstate 26 and Interstate 40, with an I-240 connector that passes through downtown. Mountainous, curvy, and scenic sections of highway are found along the interstates in all four directions while traveling into Asheville. The Asheville area is also served by 10 US and state highways. The Blue Ridge Parkway has four primary accesses in Asheville at US 25, US 70, US 74A & NC 191. Maps are reccomended as highways may have listed directions but may travel in different directions. For example, a road signed "east" may travel north/south for a significant amount of time.
By bus
Asheville is serviced by Greyhound Bus, 2 Tunnel Rd, ☎ +1 828 253-8451. 8AM-9PM daily.
Get around
By car
A car is definitely your best bet. Street parking is metered Monday through Saturday, 8AM–6PM at $1 per hour. Street parking is free on Sundays, evenings and official city holidays (New Year's Day, Martin Luther King Day, Good Friday, Memorial Day, Fourth of July, Labor Day, Thanksgiving, Christmas). In addition to street and garage parking, there are several surface lots throughout downtown.
There are three parking decks: Civic Center Garage, Rankin Avenue Garage, and Wall Street Garage. All are accessible 24 hours a day and are free for the first hour then $0.75 per hour thereafter. Attendants are on duty 10AM–7PM Monday through Friday.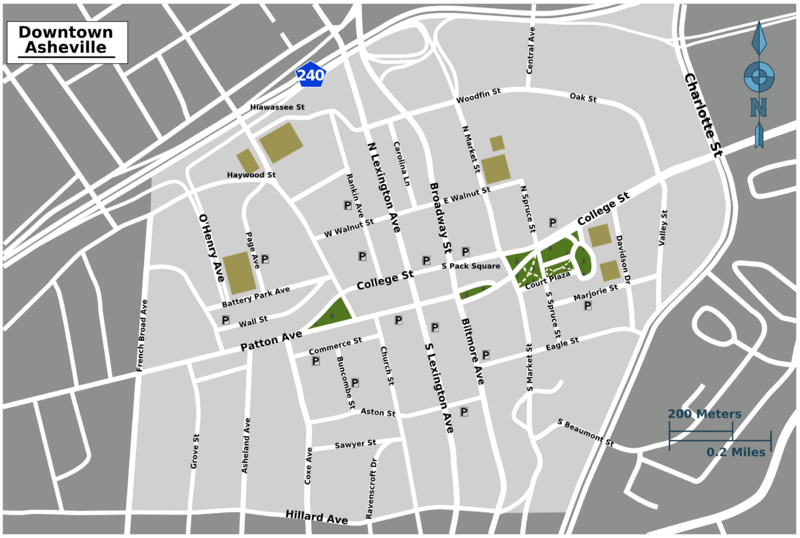 By taxi
Within the City of Asheville, fares are as follows: For the initiation (drop) of the meter – $2.50; For each one-tenth mile after initiation – $0.25; For each passenger in excess of two – $2; For each two minutes of waiting time or fraction thereof after the first two minutes – $0.40
Airport Limousine & Taxi Service

, ☎

+1 828 253-3311

. 

Asheville Bike Taxi

, ☎

+1 828 777-5115

.

$1 a minute; 1-2 people

. 

Beaver Lake Cab Co

, ☎

+1 828 252-1913

. 

Checker Cab

, ☎

+1 828 254-1155

.

Pick-ups in 10 minutes on average. Econo-line vans available for up to 10 passengers.

Jolly Taxi

, ☎

+1 828 253-1411

.

Metro Cab

, ☎

+1 828 254-1155

. 

New Blue Bird Taxi Co

, ☎

+1 828 258-8331

.

Red Cab Co

, ☎

+1 828 232-1112

.

Yellow Cab Co

, ☎

+1 828 252-1913

.

Your Cab

, ☎

+1 828 259-9904

. 
By bike
Bike rentals are available at BioWheels, 81 Coxe Ave, ☎ +1 828 236-BIKE. Self-guided tour routes, maps and guidebooks are available for bicycle rides on the area forest lands, on the Blue Ridge Parkway and around downtown Asheville. Tour Asheville by pedal assist electric bike with guided bike tours by Electro Bike Tours http://electrobiketours.com.
All buses in the Asheville Transit System are equipped with bike racks.
By bus
Asheville Transit provides bus service that is regular but infrequent outside of downtown; inside downtown walking is almost always faster. Buses run from 6AM-11:30PM Monday through Saturday. Routes radiate from the Transit Center, located downtown at 49 Coxe Avenue next to the U.S. Post Office. Bus fare is $1 for adults and $0.50 for seniors and riders with disabilities. A "fare-free" zone exists in the downtown area containing almost all of the businesses, restaurants and attractions of downtown. Riders can take any bus in the system within the Free Zone at no charge.
 For more information click here