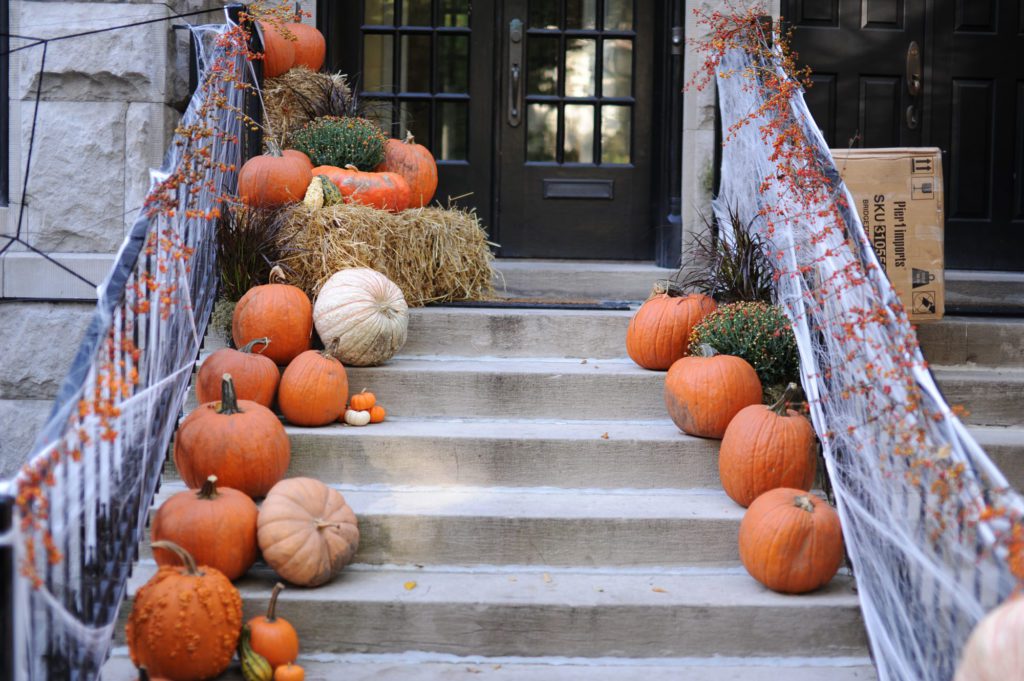 Halloween is just days away and it's not too late to get your house looking spooky in preparation for a party or for trick-or-treaters. You might not feel like you have the time to decorate this year, but we have a few easy accent ideas that are quick and will take minimal effort. Get into the spirit with this last-minute home décor for Halloween.
Pumpkins
Pick up a few big pumpkins and arrange them near your door, on your porch or on the steps leading up to your front door. This is an easy way to decorate that won't cost a ton and will add some Halloween flare to your home. Go the extra mile by adding a pot of mums or a hay bale.
Crafters
There are so many easy decorations at your local craft store that make it effortless to dress up any home. Add a Halloween door mat, door wreath, or already-made decoration to the exterior or interior of your house. Check for coupons so you can be sure to get the best bargain. You might be surprised to see how far $25 will take you.
View this post on Instagram
Enhance what you already have
You won't have to take anything away from home, just incorporate a few Halloween inspired pieces. Hang up some orange, black and purple garland from the walls or make bats out of construction paper to hang from the ceiling. Adding a few décor pieces here and there will go a long way to giving your home all the Halloween vibes.
View this post on Instagram
Keep it simple
If you're hosting a Halloween party, consider using themed plates, cups, napkins and utensils. Pick up Halloween bowls for snacks—which you can also use to pass out trick-or-treat candy.
You don't need to spend a lot of money or take up hours of your time to bring the fun of Halloween to your home. What are your last-minute Halloween décor tips? Comment below.
About Asheville Realty Group
Asheville Realty Group is located in the heart of Downtown Asheville, surrounded by the Blue Ridge Mountains. We are your local Asheville connection servicing the towns of Arden, Asheville, Black Mountain, Candler, Fairview, Leicester, Mars Hill, Hendersonville, Fletcher, and Weaverville to just name a few. As an independent group, our brokers combine their experience from successfully closing hundreds of transactions every year. Asheville Realty Group specializes in out of town customers, looking to relocate to Asheville, NC.
Get in touch with us today by filling out the form below or give us a call at 828-252-1910
Contact Form
We would love to hear from you! Please fill out this form and we will get in touch with you shortly.