Limones Restaurant Review
Asheville is well known for its excellent and unique restaurants, bars and breweries, and local fun. When company comes for a visit, especially for the first time, it's always a pleasure to take them to a few of the best spots in town. Recently when company arrived, we opted to start the visit at Limones Restaurant.
Limones is a locals' favorite place to dine. Recently Limones expanded by converting their sister restaurant, En La Calle, into Limones, adding more tables and additional seating at the bar. The next-door restaurant blended in seamlessly with Limones original decor and superb lighting to enhance the dining experience.
Upon entering Limones the serene lighting was enticing, along with the sound of ice being shaken for a hand-crafted margarita or specialty cocktail. The low hum of patrons enjoying themselves and the lusty aroma of roasting chiles from the kitchen made our experience even more uplifting. This is one of my favorite restaurants in Asheville.
This restaurant features gourmet Mexican fare unlike any other. As a first course they offer house made ceviche three different ways. The first ceviche features shrimp, octopus, and scallops marinated in fresh lime juice, slivers of red onion, jalapeños, and Mexican herbs. The next ceviche is a light fish of the day marinated in fresh lime juice, cilantro, and guacamole, with just the right amount of spice. The third is a vegetarian ceviche with avocado, papaya, slivers of red onion blended perfectly with fresh lime juice, pickled onion and a hint of heat. It's a hard choice which ceviche to get – so they offer a generous sample of all three. The ceviche is served with warm tortilla chips.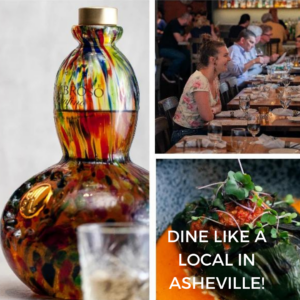 The drink menu is quite expansive. They have a wide variety of margaritas that include a traditional margarita, a mango margarita, and a spicy jalapeño margarita, just to name a few. They also have a big selection of tequilas including mescal, reposado, and añejo tequilas. In addition to margaritas, Limones makes craft cocktails, has an extensive wine list as well as lots of local beer.
The main menu includes tapas, and entrees which include lobster nachos, overstuffed chili relleno, and lamb tacos, plus many other things including salads and light bites.  Other entrees included perfectly seared scallops placed over a bed of sweet fresh corn, plump fava beans, roasted chilis, and cucumber mint relish. These ingredients flawlessly enhanced the natural sweetness of the lightly caramelized large scallops.
Another entree we ordered was the fish of the day which was a citrus grilled halibut on a bed of saffron basmati rice accompanied with a delightful and flavorful combination of gazpacho and avocado salsa. The fish was the perfect texture and flavor that blended in with the rice and salsa.
One member of our party ordered a lighter entrée: a simple spinach salad dressed in a lime aioli, shaved red onion, Mexican cheese, and toasted almonds. The salad was paired with large crispy shrimp that came with a peppery, sweet. and spicy sauce.
In addition to what we chose, there are a variety of entrees, tapas, and small plates to satisfy most appetites including meat and seafood lovers, plus vegetarian and vegan palates. Limones is a great restaurant for not just locals but also for locals who want to show off Asheville to guests who are visiting.
Reviewed by Callie Heikes, ARG agent extraordinaire and classically trained French chef
About Asheville Realty Group
Asheville Realty Group is a boutique brokerage firm offering full-service real estate services. We have locally experienced agents who specialize in residential homes, luxury homes, investment properties, country-side acreage and everything in between. We love Asheville and the surrounding western North Carolina mountain communities that we call home!
Get in touch with us today by filling out the form below or give us a call at 828-252-1910.
Contact Form
We would love to hear from you! Please fill out this form and we will get in touch with you shortly.