You've been hearing it for many months now: it's a seller's market in Asheville. But what exactly is a seller's market? Is it just a term to make buyers feel anxious and put forth their best offer? Or are there objective criteria that determine whether it's a balanced market or one tilted toward buyers or sellers?
We know a one thing for sure –
If you're looking for a house in Asheville, you must be able to make snap decisions. Why? Because there are more buyers than sellers. And that is the bottom line. That's the reality and the experience of buyers in a sellers' market.
More than a feeling!
In 70's rock terms, there's more to this than anxiety/frustration for buyers and elation for sellers. Statistically speaking, there are formulas to back up the commonly used descriptions of the housing market.
At the root of this formula is "absorption rate". Absorption rate means how quickly active homes are absorbed by the market. To calculate this, you dived the number of homes sold by the number of homes on the market during a specific time period. For example, if last month there were 350 homes for sale, and 100 homes sold, the absorption rate would be 28.5%. An absorption rate of over 20% is generally considered a seller's market, while an absorption rate of under 15% is considered a buyer's market.
Another formula to use is the months of inventory. You multiply the number of homes selling in a month by 12, and then divide that total by the number of homes on the market. So, if 100 homes are selling per month, that's 1200 per year. Divide that total by the number of homes on the market (350), and the result is 3.42 months of inventory. In general, less than 6 months of inventory is considered a seller's market, and more than 6 months of inventory is considered a buyer's market.
Those are the general terms. Keep in mind, however, that there could be 3 months' inventory at the $300-400K price point, but only 2 months inventory at the $500-750K price point. Inventory and absorption rates can even vary greatly from one neighborhood or county to another.
Do you need to know these numbers to buy a home?
Not necessarily. But it's important that you find a Realtor who does! If you're selling a home, you want to price it on point for the current market. And if you're buying a home, you want to know how to offer and negotiate in order to win that home you love. A Realtor who is an expert on the current market conditions is your best bet to help you succeed.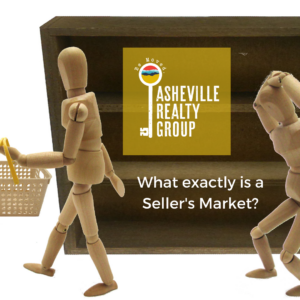 About Asheville Realty Group
Asheville Realty Group is a boutique brokerage firm offering full-service real estate services. We have locally experienced agents who specialize in residential homes, luxury homes, investment properties, country-side acreage and everything in between. We love Asheville and the surrounding western North Carolina mountain communities that we call home!
Get in touch with us today by filling out the form below or give us a call at 828-252-1910.
Contact Form
We would love to hear from you! Please fill out this form and we will get in touch with you shortly.