Summer has traditionally been the best time to sell a home. Not only do many families take advantage of moving when the kids are out of school, but the climate is also more predictable. Fewer people are looking to make moves when the roads are icy and the temperature is cold! With more homes on the market here in Asheville NC, how can you maximize your potential for a great offer among all the options out there? Fortunately, you can take a few simple steps to ensure your home stands out from the crowd.
Tips for Selling an Asheville Home in Summer
Summer is a popular time for selling your Asheville NC home! Read on to get our tips to help improve the selling process and ensure it goes quickly and smoothly.
Control the Climate
The first thing a buyer will notice when they walk into a home is the temperature. If the weather is warm and humid, it's critical you keep the home cool. Run the air-conditioning, fans or open windows to let the breeze in.
Let in the Sun
It might be tempting to close the blinds to save money on your air conditioning bill, but bright, sunny rooms are always more appealing. Leave your window blinds open to showcase natural light in each room.
Extend Outdoors
Outdoor living space such as yards, patios and dining areas are commonly on Asheville home buyer's "must-have" list. Regardless of your home's features, maximize the impact of your yard with furniture, BBQ grills and manicured landscaping. Highlight how the home can extend outside—adding bonus square footage.
Spring Clean
A fresh, decluttered home with a lighter, seasonal color scheme will be visually appealing to your buyers. Replace dark pillows, linen, paint colors and accents with softer colors. This will make your rooms seem larger. Neutral colors are always best as they are less distracting—making it easy for homebuyers to envision making the home their own.
The summer selling season is here. Make sure your home is dressed for success! Welcoming outdoor spaces and bright sunny rooms combined with inviting air-conditioned rooms will ensure you get the best possible offer. Ready to sell your Asheville home? Get in touch with a local real estate agent today.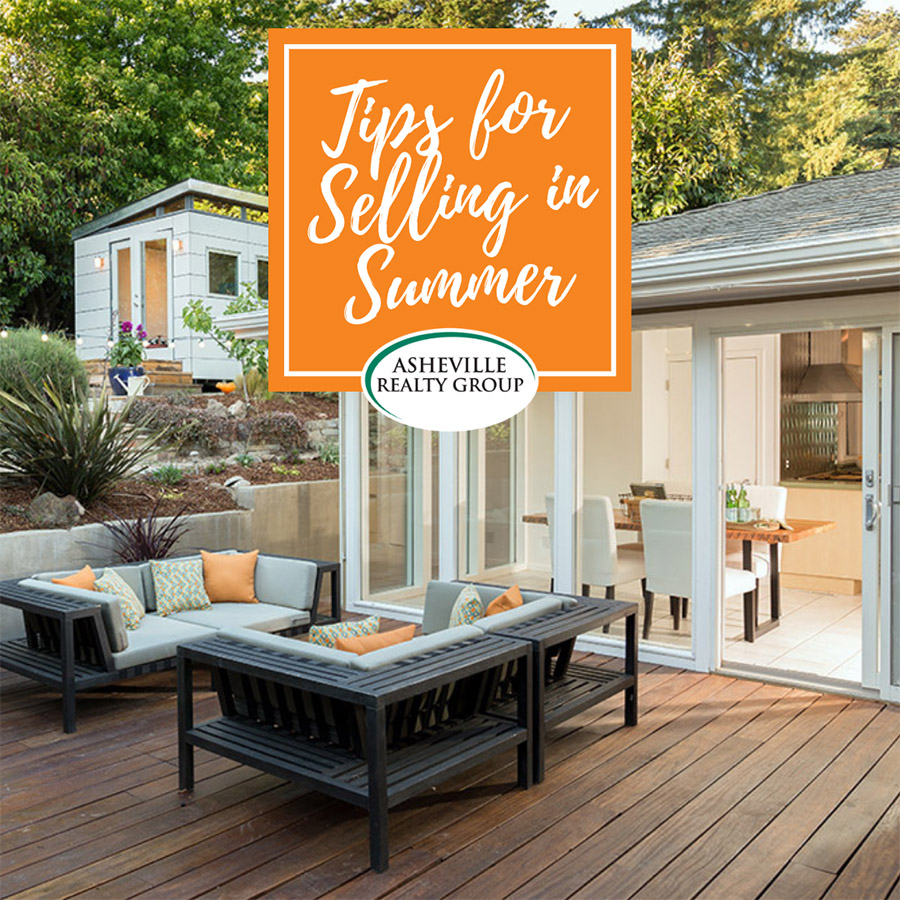 About Ashville Realty Group
Asheville Realty Group is a boutique brokerage firm offering full-service real estate services. We have locally experienced agents who specialize in residential homes, luxury homes, country-side acreage and everything in between. We love Asheville and the surrounding mountain communities that we call home!
Get in touch with us today by filling out the form below or give us a call at 828-252-1910
Contact Form
We would love to hear from you! Please fill out this form and we will get in touch with you shortly.