TITLE SEARCH VS TITLE INSURANCE
When buying or selling a home, it may seem like there are a thousand steps to the closing process. A title search is just one of the many components in the real estate transaction, and title problems may account for almost 10% of closing delays.
So, what is a title search and what does it disclose?
In North Carolina, property records are managed at the county-level, usually by the Register of Deeds. A title search is performed by an attorney's office. (NC does not allow title companies to perform the search as some other states do.) The attorney searches property records going back 30 years. If all is clear, it's said the property has "marketable title".
Who owns & who's owed.
In the simplest form, a title search identifies who owns the property. This may seem obvious, but occasionally the party selling the home does not actually have the legal right to do so, at least on paper. For example, perhaps a divorce occurred and the transfer of the property was not recorded. Another example would be a property held in trust or probate; it could take some paperwork to correct title to allow a sale.
The second purpose is to find any encumbrances to the property. Issues found when searching the chain of title could be in the form of a contractor's lien for work completed, easements, pending lawsuits, filing errors, etc.

Do I really need a Title Search?
As a seller –
Doing a preliminary title search can help avoid costly delays at the end. A seller can help mitigate title issues having a preliminary title search at the time of listing. This gives them
plenty of time to address any outstanding title issues before it costs buyer and seller valuable time in delays. Ask your ARG listing agent to point you in the right direction.
For the buyer –
A title search can contain pertinent information! A title search uncovers any existing liens on the property. The search could turn up old debt or unreleased loans – all items which must be paid off or removed prior to sale. If the title search does find any issues, the seller will need to remove them before the closing can occur. The North Carolina Association of Realtors purchase contract allows the buyer to walk away in the event of unremedied defects in the title.
Okay, if the title is clear, then what is this "Title Insurance"?
If you are getting a loan to purchase property, your lender will require you to purchase title insurance. They want to make sure that their investment in your property will be protected in the case of any of the above issues. You will also want to purchase Owner's title insurance for your part of the investment – especially if you are paying cash. Once the sale is closed, title insurance ensures the new owner and the lender against any title issues that were not discovered during the search.
In conclusion, not only does title insurance protect the collateral, but it should give everyone some peace of mind. And that is a valuable asset!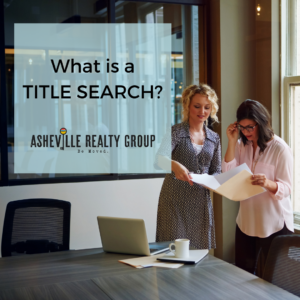 About Asheville Realty Group
Asheville Realty Group is a boutique brokerage firm offering full-service real estate services. We have locally experienced agents who specialize in residential homes, luxury homes, investment properties, country-side acreage and everything in between. We love Asheville and the surrounding western North Carolina mountain communities that we call home!
Get in touch with us today by filling out the form below or give us a call at 828-252-1910
Contact Form

We would love to hear from you! Please fill out this form and we will get in touch with you shortly.