What do the locals say?
If you're visiting Asheville, or even if you've recently moved here, one thing you absolutely must learn is:
Where to find the best pizza in Asheville!
We polled our agents – some of whom were born here, and some who found their way here years ago.  What we found out is that Asheville Realty Group agents are passionate about pizza!
Several people loved on Asheville Brewing Company Pizza a.k.a. Asheville Pizza. They have a bunch of special combination pizzas, some with vegan and gluten free options. Truly Asheville at its artisan best!  Agent Abby Holmes says she's been eating there for 18 years because of their unique and tasty options.
Erin Secretarski
not only recommends
Frank's Roman Pizza
in Woodfin, but specifically pizza by Carl at Frank's. According to Erin, they have the best crust and the freshest ingredients, and Carl is awesome, too!
828 Pizza has been around many years – previously known as Marcos, in north Asheville. Emily Wareham loves the Italian style pizza reminiscent of Italy. 828 is a favorite of mine, too. The crust. It's all about the crust, and they do it right – so tasty.
Jennifer Evelyn must have gluten free, and finds her fix at either Mellow Mushroom or Carmel's downtown. Both have a good crispy pizza, somewhere between NY style and brick oven. For her, the crust is also important – for someone that can't eat gluten, a crispy crust with the right amount cheese goes a long way! Jennifer has lived in NY, FL, eastern NC, MA, RI, Korea, and CO – definitely a wide variety of pizza styles to compare. PS – she does NOT enjoy the roasted red pepper pizza at Mellow Mushroom – something about being chewy – good for brownies, but not for pizza.
Our owner and agent extraordinaire, Hadley Cropp, is an Asheville native – north Asheville to be exact! And while she's traveled around the globe, her pizza tastes lie close to home, at either 828 or Asheville Pizza. Again – it's about the crust. Sesame seed crust at Asheville Pizza and the super thin crust at 828.
Well, here's one I have not tried (but will): Pizza Mind in West Asheville. According to Amanda Cleveland, our Director of First Impressions, they have the perfect sauce to cheese ratio, and the dough is not too thick. You can stop in our downtown office at 47 Patton Ave. any weekday and get Amanda's personal recommendations on a variety of cuisines. She has not steered us wrong yet!
 Suzanne DeVane told us, "Coming from Chicago with the MOST sublime thin crust thanks to Vito and Nick's on the south side, this has been a multi-year trial and error effort that finally paid off this past Tuesday in Burnsville of all places!!  Ask for a thin crust well done pie at Laura's Trattoria and Pizzeria and you won't be disappointed!  Big plus is an incredible wine list as well!!"
Our jet-setting, Asheville-loving Thomson Meeks has an affinity for All Souls Pizza. According to Thomson, they make, without a doubt, the best pizza in Asheville. "Their blazing hot wood fired oven and backyard-esque patio both transports you to the Italian hills and embraces you with familiarity." (He's also a poet in his spare time.)
Russ Martin and Karon Korp love to eat at Piazza in Eastwood Village off 74-A. They have many specialty options, but Russ loves the create-your-own pizza. Also on the menu are some terrific Italian wines and beers on draft. Perfect for people on the Fairview side of town.
Our resident pizza specialist appears to be Nathan Ostroot. We didn't mean to stress him out, but, "This is such a difficult question! I have too many thoughts depending on what kind of pizza we are craving! Some favorites: Blue Mountain Pizza in Weaverville, My Fathers Pizza in Black Mountain, Pizza Mind, White Labs Brewing, Standard Pizza, ABC Pizza, Galactic Pizza, and Manicomio." I think this will be my new pizza bucket list, starting today!
And our final contributor, Becca Loomer, the hip, happy, motorcycle-that's-not-a-motorcyle riding super agent from the east side has revealed a very special secret. While Becca could talk pizza all day long, her gift to us for this article is a place called Jimmy's on the River in Swannanoa. They've only been open since 2019, but according to Becca, "they are a little out of the way, but they have the kind of pizza you fold over to eat … yummmm!"  That's what I'm talkin' about! For me, an old Jersey girl, this just tugged at the strings of my pizza-loving heart.
Time to eat pizza and buy a house!
So there you have it! Maybe you have a favorite we haven't mentioned? Please tell us in the comments! Asheville and the surrounding communities have so many good foodie options, and pizza has earned its place high on the list. Our agents at Asheville Realty Group love Asheville as much as they love pizza, and would be happy to tell you why! So, stop in and see us at either of our locations, or give us a call at 828.252.1910.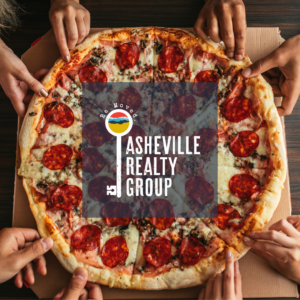 About Asheville Realty Group
Asheville Realty Group is a boutique brokerage firm offering full-service real estate services. We have locally experienced agents who specialize in residential homes, luxury homes, investment properties, country-side acreage and everything in between. We love Asheville and the surrounding western North Carolina mountain communities that we call home!
Get in touch with us today by filling out the form below or give us a call at 828-252-1910.
Contact Form

We would love to hear from you! Please fill out this form and we will get in touch with you shortly.
Blog compiled/written by Janis Hall, Managing Broker-in-Charge at Asheville Realty Group.