A lot of money goes into buying a new house in Asheville so it is understandable if you feel hesitant investing even more money to fix up your current house prior to selling. However, sellers may not realize that some of the issues they live with every day and consider minor, such as the hallway light switch not working or the kitchen sink that has plumbing issues, may actually be considered major to home buyers. These issues may even result in low offers or buyers not making an offer on your home at all!
It's crucial to keep your house presentable and in good shape before you list it on the market. That being said, read on to find out what repairs you might want to consider before you list on the Asheville NC housing market.
Roof Problems
A roof is one of the most important components of a home—protecting all that is underneath. Additionally, roofs are major expenses to replace. Therefore, it is imperative to keep the roof well maintained and free of damage and leaks. Issues like water and sun damage, clogged gutters and rotting will lead to bigger issues if not fixed in a timely manner. Tending to these items immediately will help prevent further damage and help present the home well to potential buyers.
Poor Maintenance
Minor issues such as damaged flooring, paint chipping, and old carpeting can be easily fixed to give your home an upgrade. Your goal is to make your Asheville home for sale appealing so start by replacing anything that is heavily worn and adding a fresh coat of paint. These minor upgrades can often be inexpensive and you'll most likely see a return on investment right away.
Plumbing
Plumbing problems can result in minor or major issues and it is very important to take care of right away as they can lead to further problems. Bigger problems such as water damage can lead to mold. Leaky faucets can be replaced inexpensively and make a big difference to a potential buyer.
Wiring
Electrical problems can cause a wide variety of problems. Smaller fixes such as faulty switches, missing wire nuts or damaged junction boxes can be fixed with a good electrician. Replacing a circuit breaker might be needed if they don't match the amperage of your home.
Odds & Ends
It's easy to overlook the wear and tear on a home you've lived in for many years. Before you list, look closely at the conditions of your home and evaluate what could be cleaned up. Items to keep in mind are how easy the doors and windows open, are the hinges on cabinets working properly, are there rooms with dull paint and can rooms be decluttered and cleaned?
Some repairs are obvious to see while others aren't. It's a good idea to run a pre-inspection of your house before listing. After, review it with your realtor because they can advise you on which fixes are the first priority. Read more about Asheville real estate and home inspections right here.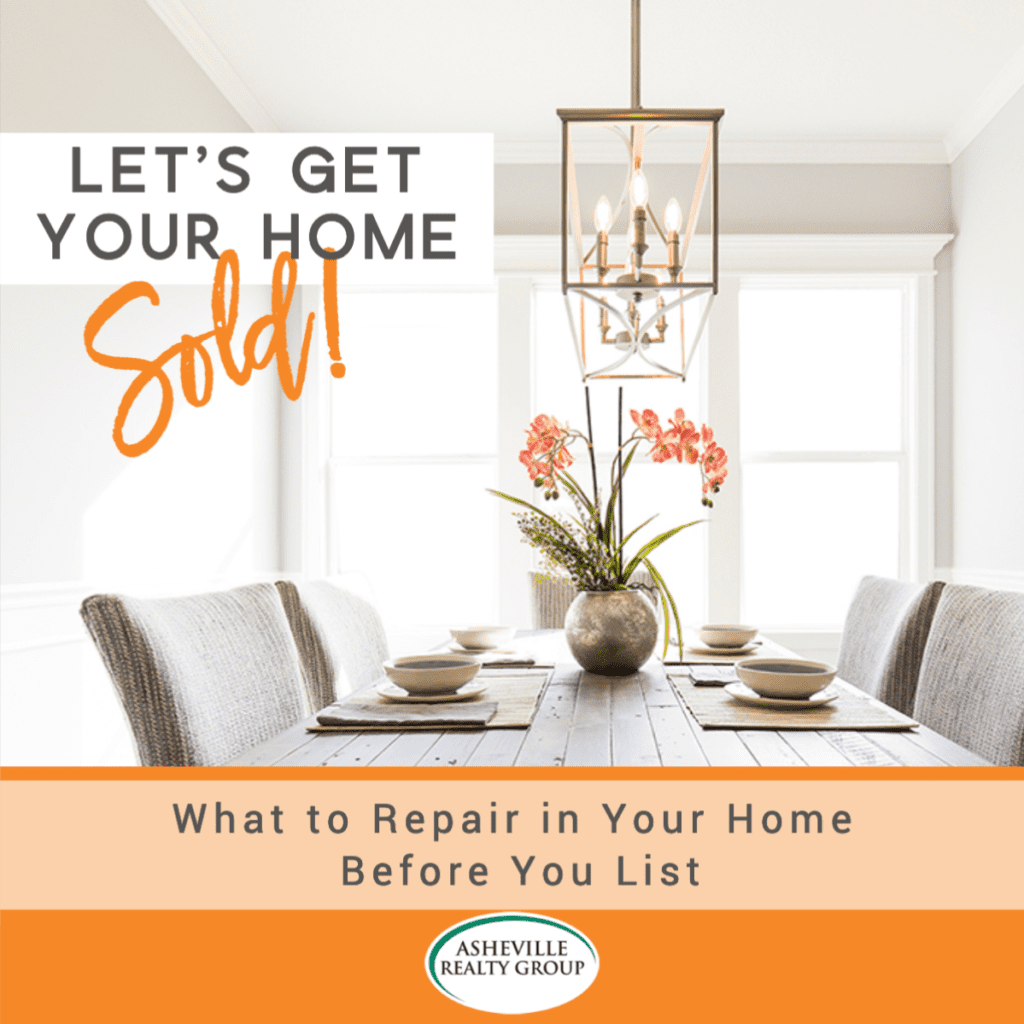 About Asheville Realty Group
Asheville Realty Group is a boutique brokerage firm offering full-service real estate services. We have locally experienced agents who specialize in residential homes, luxury homes, country-side acreage and everything in between. We love Asheville and the surrounding mountain communities that we call home!
We are located in the heart of Downtown Asheville, surrounded by the Blue Ridge Mountains. We are your local Asheville connection servicing the towns of Arden, Asheville, Black Mountain, Candler, Fairview, Leicester, Mars Hill, Hendersonville, Fletcher, and Weaverville to just name a few. As an independent group, our brokers combine their experience from successfully closing hundreds of transactions every year. Asheville Realty Group specializes in out of town customers, looking to relocate to Asheville, NC.
Get in touch with us today by filling out the form below or give us a call at 828-252-1910
Contact Form
We would love to hear from you! Please fill out this form and we will get in touch with you shortly.