How you find the BEST REALTOR® to sell your home:
We've been hearing it all over the country, and especially in Asheville. It's still a Seller's market! And you, being ever so savvy, have decided now is the best time to sell your home. You've decluttered, deep cleaned, planted flowers and prepped. Now, it's time to find the best Realtor® to sell your home.
Did you know there are over 110,000 licensed real estate agents in North Carolina? Almost everyone knows at least one or two. But is hiring your second cousin or best friend's husband really a good idea? Here are three things to consider to help you find the best Realtor® to sell your home.
HOW WELL DO THEY KNOW THE MARKET?
There are many aspects to how well the agent knows the current market. First of all, find out how long the agent has lived in the area. It may not be necessary to hire a native Ashevillian (if you can find one), but you do want someone with insight into the characteristics of your neighborhood. Western NC is full of unique neighborhoods tucked into a holler or over a knoll. In addition, we have our own specific challenges that a local agent knows how to address. For example, there could be septic permitting issues or confusing acreage calculations in mountainous terrain. A Realtor® with local experience is your best bet to guide you in selling your home.
Secondly, knowing the market means being active in the current real estate frenzy. It's okay to ask your prospective agent if they are a full-time broker and whether they work mostly with sellers or buyers. While it may be more intuitive to assume someone who only works with sellers is a better choice, keep in mind that an agent who also works with buyers is up to speed on what buyers are looking for, as well as what they are willing to pay for it!
WHAT LEVEL OF COMMUNICATION CAN YOU EXPECT FROM YOUR AGENT?
If you like to communicate via text message, is the agent wiling to accommodate you? Maybe you prefer to be contacted by phone or meet in person. Some agents may email you once a week with updates. Others may embrace "on-demand" communication by phone or text. The important thing is that they communicate as much as you, the Seller, need. Ask up front how often you will receive showing feedback. See if the agent is willing to review selling documents with you, or get them to you in advance to review on your own. There are definite parameters around the time a Realtor® has to provide you with an offer submitted by a potential buyer – ask for the agent to set your expectations ahead of time.
WHY DO THEY THINK THEY ARE THE BEST REALTOR TO SELL YOUR HOME?
An agent experienced in listings will have a detailed marketing strategy and schedule. If the agent has sold properties in your neighborhood, that's a huge plus! Ask how long it took from listing to going under contract, and what the list/close price ratio was.
The agent should be able to tell you who your target audience is and how much your home should sell for. And with this knowledge, they should be able to tailor the marketing of your home to the probable future owners – whether it is via social media, public online marketing platforms like Realtor.com, or the local Realtor Association's Multiple Listing Service.
DO THEY HAVE A PROVEN TRACK RECORD?
Finally, don't hesitate to ask for references! Most Realtors request a positive review after closing a sale for a happy client. Whether it's on Zillow or the agent's personal website, they should be able to direct you to some great reviews and maybe even give you some references from past customers.
There are many considerations when hiring a real estate broker to sell your home. We at Asheville Realty Group are ready to meet with you and go over all of the above, and more.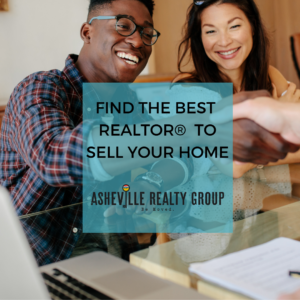 About Asheville Realty Group
Asheville Realty Group is a boutique brokerage firm offering full-service real estate services. We have locally experienced agents who specialize in residential homes, luxury homes, country-side acreage and everything in between. We love Asheville and the surrounding mountain communities that we call home!
Get in touch with us today by filling out the form below or give us a call at 828-252-1910
Contact Form
We would love to hear from you! Please fill out this form and we will get in touch with you shortly.