As you prepare for retirement, it's natural to consider ways to reduce your housing costs. Retirement should be a time of fun and freedom; finding housing cost savings in retirement will give you more resources to enhance your lifestyle and make the most of it!
Here are a few suggestions to help you save on housing costs:
DOWNSIZE – Seems obvious, right? The most common way to reduce costs is to downsize. Many seniors find they can greatly reduce or eliminate monthly
payments while reducing upkeep. Who wants to spend all your time and retirement money maintaining space that you no longer need?
RETIRE TO A 55+ – These  communities offer a lower-cost, low-maintenance lifestyle. Asheville and the surrounding areas are home to over 25 active retirement communities catering to those 55 years of age and older. As a result, you can save money and have more time. Ask one of our Seniors Real Estate Specialists (SRES) to tell you about 55+ communities.
RETIRE IN PHASES – Some area communities allow for planning the stages of your retirement, including various levels of assisted living. You may not be ready for a skilled nursing facility, but maybe you just need a little help with meals. As you get older, your needs can be addressed by a community that knows you. You won't need to start over. As a result, you can save thousands.
REEVALUATE YOUR MORTGAGE – Maybe you've already downsized, and found a great low-maintenance home in a 55+ community. When was the last time you refinanced? Interest rates are still historically low! You might even consider a reverse mortgage. Federally insured reverse mortgages can provide income to supplement your retirement savings, so that you can enjoy life!
RENT? – Maybe you no longer need to own a home at all! Selling a home and pocketing the proceeds can give you the freedom to travel more and have more fun! Median home prices are at their highest ever, and Asheville Realty Group has some of the most knowledgeable and experienced agents in the area, who can help you sell your home for the best price, stress free!
If it's finally time to retire, or if you are in the final planning stage, consider looking for help with housing cost savings. In short, saving money on monthly housing expenditures is on of the best ways to ensure that you will enjoy your hard-earned retirement.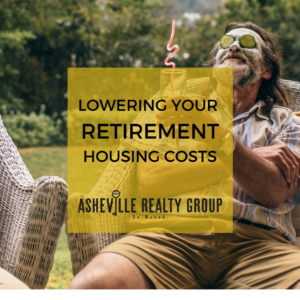 About Asheville Realty Group
Asheville Realty Group is a boutique brokerage firm offering full-service real estate services. We have locally experienced agents who specialize in residential homes, luxury homes, country-side acreage and everything in between. We love Asheville and the surrounding mountain communities that we call home!
Get in touch with us today by filling out the form below or give us a call at 828-252-1910
Contact Form
We would love to hear from you! Please fill out this form and we will get in touch with you shortly.