Changing Housing Market Trends
Current real estate market trends include a mix of positive and negative developments. The effects of the Covid-19 pandemic on the economy have created a new housing environment which is expected to alter the way we approach real estate for the next few years, and maybe beyond.
Here are several emerging housing market trends:
Homeownership
The past decade has steadily shown a gradual decline in homeownership rates nationally. However, in 2020, homeownership rates showed an uncharacteristic increase of over 4%! Lower consumer spending during stay-at-home orders and lower interest rates helped affordability ratios. Stimulus money also helped make this possible. Now that we are coming out of the Covid economy, it remains to be seen whether this trend will continue.
Interest Rates
While still historically low, interest rates have started to creep up along with inflation. This is one of the reasons for the high demand for new and existing homes that we're seeing in 2021. Borrowing money to buy a home is still dirt cheap, for now.
Housing Prices
This increased demand has, of course, raised the asking price of most homes. Short supply left over from 2020 has led to bidding wars, and Buyers have even been agreeing to purchase regardless of the appraised value – further inflating the prices.
This music to the Sellers' ears, however, has caused many on the fence about listing their home to go for it. We are now seeing inventory gradually increasing, the frenetic pace ever-so-slightly lessening, and Buyers who can't find what they really want deciding to hold out. All these factors are expected to contribute to flattening the pricing curve a little, and possibly leading to a more balanced market by the middle of next year.
Millennial Home Buying
Millennials currently comprise about 38% of first time home buyers. They are looking for good deals. Homes needing TLC seem to be good options as opposed to turn-key homes at top dollar. Real estate professionals are utilizing online home selling platforms, apps, social media, and smart home technology to enhance appeal to this market segment.
Location, Location, and Luxury
Many home buyers and real estate investors continue to look outside of urban markets to second-tier cities and suburbs. Second home buyers looking for luxe high-end properties can get better values in places like Asheville. In turn, sales of million-dollar-plus homes in the Asheville area have quadrupled since this time last year!
Keep an eye on these changing real estate market trends by following our blog!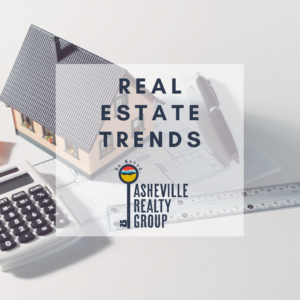 About Asheville Realty Group
Asheville Realty Group is a boutique brokerage firm offering full-service real estate services. We have locally experienced agents who specialize in residential homes, luxury homes, country-side acreage and everything in between. We love Asheville and the surrounding mountain communities that we call home!
Get in touch with us today by filling out the form below or give us a call at 828-252-1910
Contact Form
We would love to hear from you! Please fill out this form and we will get in touch with you shortly.