TOP TRENDS FOR YOUR OUTDOOR LIVING SPACE

Summer is almost here – let's head to the mountains!  We're spending more time outdoors, and plenty of it in our own backyards. Outdoor entertaining has never been more popular, and here are the hottest trends for 2021.
• Outdoor Kitchens  This trend is not going away any time soon. Ever since the first built-in BBQ showed up, homeowners have loved cooking outdoors. If you want to go beyond the gas grill, try adding a simple pizza oven! Or, upgrade to a full chef's set-up with multiple ovens, refrigerators, prep spaces, and a bar. You may find yourself loving the time you spend in your open air kitchen.

• Edible Gardens  Home gardeners have enjoyed patio tomatoes and herb gardens for decades. Covid concerns and sustainability trends have increased the attention on home-grown, organic fruits and vegetables. Any small space can be transformed to grow your favorites. There's something very satisfying about eating food you grew yourself. What's better than watching plants grow, bloom and turn into delicious fruits and vegetables?

• Privacy Structures  Creating some private outdoor space is relatively easy. Simple strategies, such as a large, well-placed umbrella or planter containing tall grasses, can carve out some private outdoor space. Another trend is using larger furniture, such as covered daybeds. Hammocks and gazebos have also made a strong return to the pages of design magazines. And hot tubs never grow old.

• Front Yards  With the lock-downs and restrictions of the past year, front yards have made a comeback. As people have enjoyed the ability to socialize with neighbors and friends as they pass by, not only have front porches become more popular but adding a patio or sitting area in the front yard has topped the garden trends this year.
The warm weather is back. This is a great time to explore the many ways to enjoy your outdoor space. From simple weekend projects to large-scale remodels, the trend toward using the outdoors to supplement indoor living space is here to stay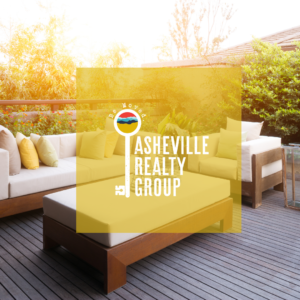 About Asheville Realty Group
Asheville Realty Group is a boutique brokerage firm offering full-service real estate services. We have locally experienced agents who specialize in residential homes, luxury homes, country-side acreage and everything in between. We love Asheville and the surrounding mountain communities that we call home!
Get in touch with us today by filling out the form below or give us a call at 828-252-1910
Contact Form
We would love to hear from you! Please fill out this form and we will get in touch with you shortly.