Should we be afraid?
Some say, it was only a matter of time until 1980s design had its renaissance.  (This blog writer says, "Why?")
While I have not experienced this in person, I hear that furniture showrooms are looking more like a TV set of the Golden Girls rather than the even, gray-toned backdrops of the past few years. Color, shapes, and playfulness are making a comeback. Bringing rooms back to life is the theme for this old/new design trend.
What does 1980s design look like in 2021?
Round Shapes – Gone are the sharp edges and squared-off furniture. Round tables, sofas, and chairs are making an entrance this year.
Lower Furniture – Just like its mid-Century modern cousins, '80s furniture was lower to the ground than contemporary styles.
Color – 1980s design seafoam green and peach have slyly morphed into teal and mauve this season and are taking center stage in home décor. (Again, "Why?")
Rattan – Rattan furniture is no longer for retirees in Florida or vacation condos in Hawaii. This versatile material is now a mainstay in homes. Consider a piece or entire room of rattan furniture to brighten your space. (Or don't. We understand.)
Lucite – Clear furniture offers an illusion of floating in the room. Small spaces magically become larger by adding translucent chairs or accent tables – if you believe in magic – oh wait, that's 1965.
Ceramics – Shell-shaped lamps and art deco styles vases are an essential decorating element for the 1980's style. Think 'my grandmother's stoneware'.
Kitsch – Pop Art pieces are back. Try Andy Warhol prints and oversized novelty decorations like oversized pencils or giant teacups.  (Now here's something reasonable and appropriate! I like kitsch! Asheville loves kitsch! We know where to find it, too! Lexington Park Antiques downtown, and Regeneration Station and the Antique Tobacco Barn off Swannanoa River Rd. are full of kitsch!)
Fun is the essential theme of the "new" 1980's style. And Asheville Realty Group Realtors love fun. As designers put a modern twist on old décor, more homeowners are dusting off their '80s décor and adding a bit of whimsy to their home. (Seriously, though, folks – if you've held onto your '80s décor this long, maybe it's time to try mid-Century modern!)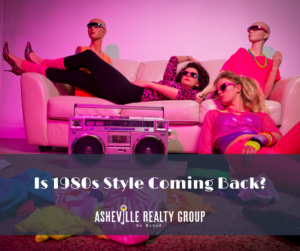 About Asheville Realty Group
Asheville Realty Group is a boutique brokerage firm offering full-service real estate services. We have locally experienced agents who specialize in residential homes, luxury homes, investment properties, country-side acreage and everything in between. We love Asheville and the surrounding western North Carolina mountain communities that we call home! Get in touch with us today by filling out the form below or give us a call at 828-252-1910.
Contact Form
We would love to hear from you! Please fill out this form and we will get in touch with you shortly.