Should it stay or should it go?
If you're selling your home, an experienced Realtor will ask you to make a list of excluded items when you sign the listing agreement. If you're like me, you want your stuff! So, figuring out ahead of time what constitiutes a fixture – that's important!
More than one seller has been surprised to find that their favorite chandelier is not theirs to take when they move. Understanding what is a fixture, and what is not included in the sale by statute is important to avoid disappointment on both sides.
The first rule of thumb is this: consider if the item is nailed down, bolted, mounted, or planted. This covers a wide range of items both inside and outside the home. This might seem simple enough, but the debate about what constitutes a "fixture" has caused many post-sales lawsuits. Fixtures will stay with the home unless specifically excluded. This includes light fixtures, shelves, cabinets, built-in shelves, and more.
Consider the mount for the big-screen TV. It might seem logical to assume the mount would go with the TV when the sellers leave, but technically it's likely considered a fixture as it's bolted to the wall. What about a window-mounted air conditioner? If it's sitting in the window, it's typically personal property, but if there is a hole in the wall to accommodate it, then it's a likely fixture.
Outdoor items are subject to the same rules. Anything planted in the yard goes with the home, as does furniture or other items bolted to the ground. In that scenario, an arbor or patio cover bolted to a concrete slab would stay.

Clearly, it can be confusing. Over the years, more and more explanation had been devoted to this topic in the NC Offer to Purchase. Fortunately, an experienced Realtor can help you navigate this as well. Communication and attention to detail will go a long way in preventing expensive misunderstandings.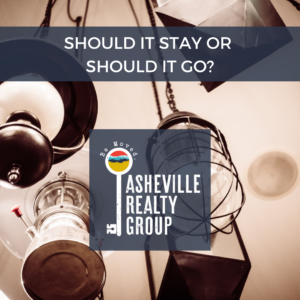 About Asheville Realty Group
Asheville Realty Group is a boutique brokerage firm offering full-service real estate services. We have locally experienced agents who specialize in residential homes, luxury homes, investment properties, country-side acreage and everything in between. We love Asheville and the surrounding western North Carolina mountain communities that we call home! Get in touch with us today by filling out the form below or give us a call at 828-252-1910.
Contact Form
We would love to hear from you! Please fill out this form and we will get in touch with you shortly.