What Millennial Homebuyers Want
Currently, millennial-age buyers make up about 37% of home buyers nationwide. They are the largest demographic of home buyers purchasing their primary homes. As a home seller, you definitely need to know your audience. So what do these savvy young people want in a home?
5 Common Upgrades Millennial Buyers Won't Pay Extra For – and One They Will
Most sellers know they should make some upgrades before putting their home on the market. But, while any deferred maintenance should be addressed, certain upgrades may not get you the extra profit you hope for.
Professional Landscaping – Although a nicely maintained yard is attractive to all buyers, over-the-top landscaping with special hardscapes or fountains may not be as important to young people busy building their careers and their families.
Upgraded Utilities – You may appreciate the new plumbing, but buyers will not pay more for copper or PEX pipes or the brand-new junction box.
HVAC – Again, new systems are appreciated, but buyers won't offer more money for the latest in HVAC systems.
New Roof – A leaking roof will certainly lower the sales price but replacing one will not have the opposite effect.
Swimming Pool – Not only will millennial buyers not pay more for a pool, but they may shy away entirely, considering the cost of upkeep and safety for young children.
And finally, a feature they will pay extra for: Solar panels. Younger buyers are conscious of their carbon footprint and are looking for environmentally-friendly options in their homes and lives. Solar panels, on demand hot water, and other green features will make your home desirable and worth paying for.
Millennial buyers are here, and understanding what they want in a home will help sellers capitalize on this fresh market.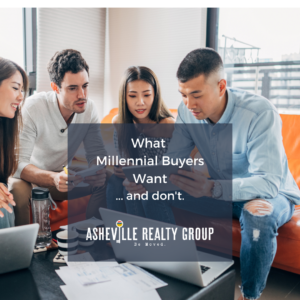 About Asheville Realty Group
Asheville Realty Group is a boutique brokerage firm offering full-service real estate services. We have locally experienced agents who specialize in residential homes, luxury homes, country-side acreage and everything in between. We love Asheville and the surrounding mountain communities that we call home!
Get in touch with us today by filling out the form below or give us a call at 828-252-1910
Contact Form
We would love to hear from you! Please fill out this form and we will get in touch with you shortly.